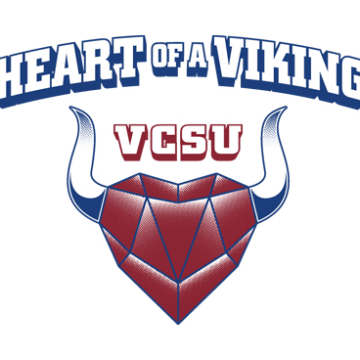 Homecoming 2023
Join us for the annual Homecoming festivities at Valley City State University.
Campus Tours

Campus Tours

Hall of Fame Banquet & Ceremony

6 p.m. | Valley City Eagles Club Banquet tickets ($20 each) are available by contacting the VCSU Foundation at 701-845-7403.
Alumni Honors Breakfast

8:30 a.m. | Student Center Tickets for the breakfast will be available at the door and are $15 each.

VCSU Bookstore Open

8 a.m. – noon | Student Center

Homecoming Parade

10:30 a.m. | Central Avenue

VCSU Walking Tour

Enjoy a self-guided tour as you explore our beautiful campus and a chance to see our newest building, the Center for the Arts.

Viking Tailgating

11 a.m. – 2 p.m. | Lokken Stadium

FOOTBALL: Vikings vs. Mayville State University

2 p.m. | Shelly Ellig Field

College Student and Alumni Dance

9 p.m. | Valley City Eagles The dance is open to all alumni, friends, and college students. No charge to attend.
Weather Forecast
Rain or Shine, Here Comes Homecoming
There is a little rain in the forecast and we wanted to make sure you had information about ways to stay informed about the parade and football game.
The parade will start marching down Central Ave. at 10:30 a.m. tomorrow morning. VCSU will post photos of the parade, and any additional scheduling information on Facebook (ValleyCityStateUnviersity), Twitter (@VCSU), and on Instagram (@VCSUVikings).
The VCSU Vikings will take on the Mayville Comets in football at 2 p.m. on Saturday at Lokken Stadium. There will be a great tailgating scene prior to the game and we encourage everyone to attend. There is a chance it might rain. Make sure to follow us on social media including Facebook (VCSUVikings), Twitter (@VCSUVikings), and Instagram (VCSUathletics) to stay up-to-date if there are any weather impacts during the game.
SEPTEMBER 18
MONDAY
41st Annual Bill Osmon Fun Run
STUDENT ACTIVITIES
Monday, September 18
THEME: MEME MASTER – Dress up like a meme!
11:00 a.m. – 1:oo p.m. Cookie Decorating, Student Center Hallway
4:00 p.m. – Bill Osmon Fun Run and Walk, Football Field
7:00 p.m. – Coronation, reception following, CFA Performance Hall
8:00 p.m. – John Cassidy : Comedian, Magician, Balloon Artist, CFA Performance Hall
Tuesday, September 19
THEME: MATCH ARTISTS -Dress as your favorite artist! 
11:00 a.m. – 1:00 p.m. – Air Plant Terrariums, Student Center Hallway
2:00 p.m. – Murder Mystery 1, Student Center Downstairs Lounge
4:00 p.m. – Murder Mystery 2, Rhoades Science Center Front Entrance
7:30 p.m. – Res Life Talent/Talentless Shows, CFA Performance Hall
Wednesday, September 20
THEME: WORK IT – Wear your workout clothes! 
11:00 a.m. – 1:00 p.m. – Reverse Tie Dye, Student Center West Parking Lot
11:00 a.m. – 1:00 p.m. – Names & Faces, Student Center Hallway
7:00 p.m. – Painted Twister, Student Center Southeast Lawn
9:00 p.m. – 12:00 a.m. – Team Theme Bowling, Sky Lanes
Thursday, September 21
THEME: COLOR BLOCK – Wear your favorite color!
11:00 a.m. – 1:00 p.m. – Trashcan Trivia, Student Center Hallway
7:30 p.m. – Medicine Wheel Park presentation with Dr. Joe Stickler, Medicine Wheel Park
8:30 p.m – Stargazing, Medicine Wheel Park
Friday, September 22
THEME: VCSU HEART – Wear your VCSU merch! 
All Day: Banner Signing, Student Center Hallway
11:00 a.m. – 1:00 p.m. – Sign Making, Student Center Hallway
7:00 p.m. – Movie Night, Valley Twin Cinema
9:30 p.m. – Night Capture the Flag, Gazebo: McFarland Lawn
Saturday, September 23
THEME: GAME DAY – Dress up for the homecoming game!
10:30 p.m. – Homecoming Parade, Central Avenue
11:00 p.m. – Tailgating (21+), Lokken Stadium Parking Lot
2:00 p.m. – Football Game vs. Mayville State University, Shelly Ellig Field
9:00 p.m. – 12:30 a.m. – Glow Dance, Eagles Club