Profiles
KaSaundra Peterson
May 25, 2021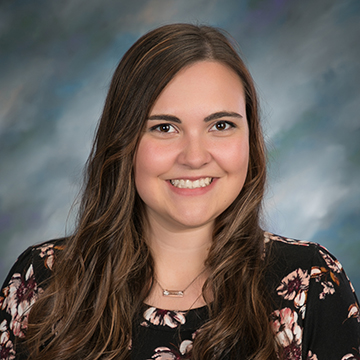 What year did you graduate from VCSU?
Fall of 2016 
Where are you working right now?
I am the education director at the North Dakota CPA Society. I plan on continuing educational opportunities for certified public accountants across North Dakota and neighboring states including conferences and seminars. 
Why did you choose to attend VCSU?
I chose to attend VCSU because of the major I was planning on pursuing, the education, and the community that can be seen at the first visit. I did change my major to business, but the community of VCSU is what intrigued me the most to attend VCSU. I have a lot of family that attended and graduated from VCSU as well, including my mother and paternal grandfather. 
How did VCSU help shape and prepare you for your current position?
VCSU helped me step out of my comfort zone. I didn't know anyone on campus when I got there and after a crazy freshman year, I found my place at my second home on campus—the Student Center. I worked as a night manager and as part of the Viking Campus Activities Board, which both shaped me into who I am today, in being organized and ambitious while reaching the goals I set out to achieve. 
Why would you encourage prospective students to attend VCSU?
I would encourage students to attend VCSU if they are looking for a school that has faculty, staff, and other students who genuinely care for your success. It takes a village (that is something that was said a lot around campus) and VCSU is the village that will support you all the way to graduation. 
What did you value most about your time at VCSU?
What didn't I value at VCSU? Everything had value to me since this was my first time away from home for more than a week, as I am sure it was and is for so many others. The faculty were there when you had questions on an assignment or needed ideas for a big project. The staff were there for any questions you could possibly come up with and if they didn't know, they would take you right to the person who did.
I went from being the shy girl who didn't have a clue about anything to working in almost every office on second floor McFarland by the time I left in 2018 (I think I didn't get two). My time at VCSU was where I truly found out who I am and who I would be, and I know for a fact I wouldn't be in this job, having the best time ever, if it wasn't for the people I met, the classes I took, and the experiences I had while I attended VCSU. 
Anything else you'd like to tell us about VCSU and your time here?
VCSU was, and still is, a second home to me. I come back often because so there are so many people there I still keep in touch with; it truly has become a second family. I think one of the most important things that any student can do is to get involved in something. It doesn't matter if you are a freshman just joining the VCSU family or if you are a senior about to embark on your next journey, getting involved by working on campus in an office, joining a student organization, or taking some classes that aren't in your requirements but interest you, are all so important.
That is where you meet new people, build relationships that last a lifetime, and find out a lot about yourself and what you are passionate about. If I hadn't walked over to the Student Center with my then-advisor Julee Russell and met Kari Stricklin, I know I wouldn't be anywhere near my current job and loving every minute of it. 
---
Meet more students like KaSaundra Peterson