Profiles
Liv Borchers
Mar 20, 2020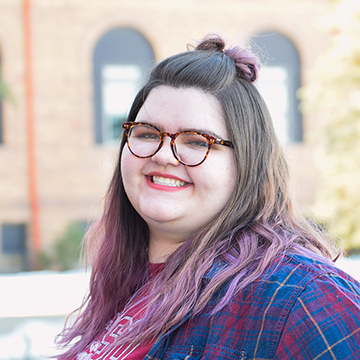 Hometown
Mandan, N.D. 
Studying
Elementary education with an ELL endorsement 
Favorite class
Any class taught by professors Joan Klein or Joan Aus 
Favorite spot on campus
Viking Learning Commons 
Best part of living in the Valley City area
The small-town atmosphere! Some people may be turned off by that notion, but I love it — everyone knows everyone, and it's really not that far from Fargo or Jamestown, which makes for fun little trips on the weekend or spur-of-the-moment Wednesday afternoon adventures. 
How you ended up at VCSU
After I came to campus for a vocal music competition during my freshman year of high school, I told my mom I was going to attend VCSU because of how beautiful the campus was. I remember thinking how awesome Valley was, but I don't remember ever saying it. She reminded me of this when she and my dad were moving me in during Welcome Weekend. Crazy how I fell in love with this place from the first time I set foot on campus! 
Fun facts
I'm a mom of 14 various cacti and succulents of which I also have a possibly serious obsession. I also spend way too much money on craft supplies! 
Goals after college
Start teaching young minds! I hope to get a position as an ELL teacher. 
Place you would go in an instant
Wherever my dog is. 
If you could have a conversation with anyone (dead or alive) who would it be?
Ellen DeGeneres of course! She's hilarious, generous, kind and most importantly genuine. I aspire to be as amazing as her. 
---
Meet more students like Liv Borchers