Profiles
Madison Yoder
Apr 1, 2021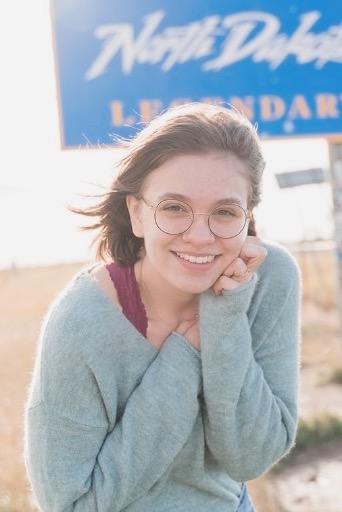 What attracted you to VCSU?
VCSU is the only school I actually applied to because as soon as I stepped on campus, I knew it was for me. Something about it just fit like a glove. It's beautiful, welcoming, and has an air of genuine dedication to its students.
Why did you choose your specific major?
I am an English education and math education double major. I have always wanted to be a teacher, ever since the first time I was asked what I want to be when I grow up. I knew VCSU is a school that builds strong educators. I chose English because it has always been my favorite subject, and it is constantly evolving and growing into something more. I chose math because I was always good at it, but I never liked it because of my consistently mean math teachers in school. So, if I end up as a math teacher, I want to be the nicest one there is.
What do you enjoy most about your major?
First, I just really like math. Also, I enjoy how small the math major is at VCSU. With smaller class sizes, I can spend more time asking questions of my classmates and my professors. I have had Dr. Kevin Murphy for three classes now, and he is the best math teacher I've ever had – possible even the best teacher, period! I would recommend VCSU to people just so that they could have Dr. Murphy.
How is VCSU helping you reach your goals?
VCSU is helping me reach my goals by providing me with a strong educational foundation. I am going to be an educator, so the foundations of my skills are what will become my students' skills one day. I take my education very seriously and I feel confident in the education I am receiving here.
Which activities of groups are you involved in on campus?
I am an active voice in the student senate, an organization I would highly recommend to everyone to develop leadership and community skills. I am also a crew member for new student orientation, and I am a writing and math tutor on campus.
What do you enjoy most about VCSU?
I love how close-knit everything feels and is. The staff and faculty know you by name and the campus harbors the feeling of a small town where everyone has each other's backs. It feels like home.
What are some of your hobbies? 
I love to play video games and board games. I'm a big reader and knitter of hats and mittens. I also love movies – I could watch them all day long.
Any advice for students thinking about attending VCSU? 
I would tell them to ask questions. Every single question that pops in your head about how college works, ask it! Your life will be so much easier and no one will think any less of you. Do not be afraid to ask questions.
---