President's Desk
President's Column: Blizzards & Budgets
Jan 20, 2023
Greetings from Valley City State University!
These past number of weeks have presented many challenges on the weather front. Road closures and a massive winter storm resulted in closing the campus and cancelling our winter commencement exercises on Dec. 15. While we were very disappointed with this, keeping our students, families, faculty and staff safe was our number one priority in making the decision to cancel. The 103 students scheduled to receive their diplomas have all been invited to participate in our Spring Commencement on May 13, 2023.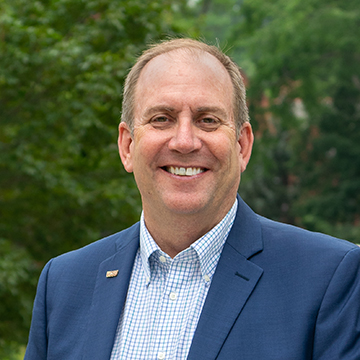 We are so grateful for the work of all those involved in cleaning up after the series of large snow and wind events. Our facilities folks, city and county employees, snowplow operators and private contractors who worked diligently to keep the roads open and sidewalks passable and safe deserve our sincere thanks.
We recently presented the VCSU budget presentation to the 2023 House Appropriations Committee on Jan. 11. I'd like to touch upon some of the highlights of this year's request from our campus. We are very grateful to the ND Legislature and Governor Burgum for the past support of our campus and continue to focus our efforts on providing a high-quality student academic experience at an affordable cost.
This year's request supports the request coming forward from the North Dakota University System office which provides general fund support for our colleges and universities based upon the number of credit hours generated. Valley City State will see a slight increase in our funding due to the enrollment increases during the past two years. We support the system request aligning with the Governor's recommendation of a 6% and 4% raise for our faculty and staff for the next biennium. Attracting qualified and outstanding employees is a challenge for employers in all sectors, but especially significant for higher education. There is a positive correlation between a high quality and stable workforce providing excellent preparation and service for our students, and our ability to continue attracting outstanding students. Increased competition from surrounding states for students and workforce continues to be a factor in this success.
In addition to our general fund request, we will be asking for one-time funding to address two campus specific projects. These include McCarthy Hall ($11.4 million) and a system-wide behavioral health initiative ($236 thousand) supporting student behavioral health needs.
It is no secret that the VCSU education program leads the state and nation in producing high- quality teachers. With a critical shortage of teachers across North Dakota, we believe we are uniquely positioned to continue meeting this important workforce need. Did you know that 1,514 VCSU alumni are serving as teachers and administrators in 359 schools in 151 communities across North Dakota? The request for McCarthy Hall funding will be combined with $2 million in private support raised in our capital campaign efforts to update and modernize the facility to provide classroom, labs and learning spaces to support pedagogy and continue training the teaching workforce for the next generation of North Dakotans.
A significant part of keeping a VCSU education affordable and attainable is the outstanding scholarship support for our students. Last year we were fortunate to be able to provide nearly $1.9 million in scholarship assistance for our students. This was made possible through the generous support of our alumni and friends who continue to support student scholarships in such a significant manner. Combined with the current capital campaign efforts, we are especially grateful to see our scholarship support continue in such a strong fashion.
Thank you, again, to all who support Valley City State University as we begin the 2023 spring semester. We wish everyone a happy, healthy, and successful new year!
Go Vikings!