The digital design program provides students with a well-rounded digital design experience as they engage in real-world design opportunities. Students gain an understanding of the theories of visual communication, principles of design, and creative problem-solving in preparation for professional positions. Students are engaged in both individual and collaborative creative projects that tap into student's strengths and interests in graphic design, digital imaging, digital photography, digital illustration, web design, and time-based art. Specific projects include, but are not limited to, poster design, user interface design, brand identity design, animation, book and page layout, package design.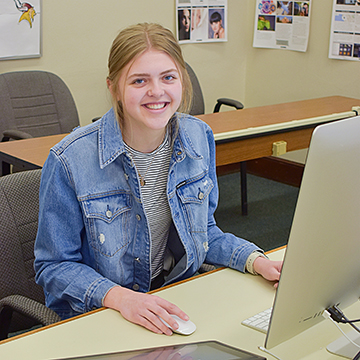 Bailey Nelson
I like any class that allows me to go through the design process. My favorite part of art is getting to design my ideas and be creative to form an idea. I enjoy planning my ideas and using my style to create something beautiful!
Read more about Bailey
Learn
As a Digital Design major, you'll learn a solid foundation of skills in different design areas:
Digital Imaging: Create and manipulate images using digital media tools, such as Adobe Photoshop and Illustrator.
Graphic Design: Explore the fundamental principles of graphic design – theory, techniques, and professional practice.
Digital Illustration: Dive into the fundamentals of composition, design, and professional studio skills to create illustrations, vector portraits, and more.
Web Design: Using software like Dreamweaver and Adobe XD, design webpages and apps and focus on the aesthetic and organization.
All students are issued a Mac laptop and you'll study your craft in the new, arts-focused building on campus.
Get Involved
Join university organizations such as Open Studio Art Club or Arts in Action (AIA). Students are also encouraged to join professional organizations such as the American Institute of Graphic Arts (AIGA).
Let your creativity flourish.
The Center for the Arts is our $32 million investment in helping you and your creative self thrive. This facility will house concert halls, galleries, and state-of-the-art workspaces and labs.
Ekow Ephrim, MFA

Assistant Professor

Departments

Art, Digital Design

Office Location