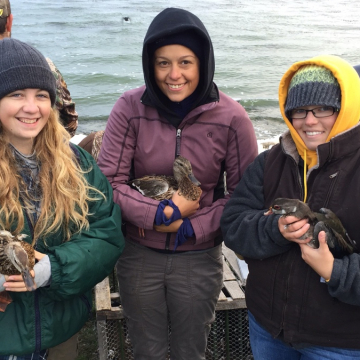 Fisheries & Wildlife Science
The Fisheries and Wildlife Sciences degree (B.S.) prepares you for careers in natural resources with state and federal agencies, conservation organizations, environmental consulting, and graduate school. Graduates are qualified for federal positions with agencies such as the U.S. Fish and Wildlife Service, U.S. Forest Service, National Park Service, Natural Resources Conservation Service, U.S. Geological Survey and others.  Graduates commonly work for State agencies such as the North Dakota Game and Fish Department, North Dakota Parks and Recreation, and the Minnesota Department of Natural Resources.  Conservation organizations where graduates find employment include Ducks Unlimited, Pheasants Forever, Delta Waterfowl, and The Nature Conservancy. The degree also prepares you for higher academic degrees, and about 15% of graduates go on for a Master's degree. You have the choice of majoring in the Fisheries Focus, Wildlife Focus or the Conservation Law Enforcement Focus.  Many students major in more than one Focus.  Students majoring in the Fisheries focus meet the certification requirements of the American Fisheries Society as an Associate Fisheries Professional upon graduation.  Students majoring in the Wildlife focus meet the certification requirement of The Wildlife Society as an Associate Wildlife Biologist upon graduation.
Practical Experience
Multiple field trips involving hands-on experience are taken in all fisheries and wildlife classes. Faculty strongly encourage and mentor students in obtaining summer work experiences through summer internships. Internships provide students with great practical experience, and make VCSU graduates more competitive in the job market. Each summer around 50 students have an internship in some area of natural resources. VCSU faculty have a close working relationship with multiple state and Federal agencies, which enables students to get hands-on experience through field trips such as duck banding with the USFWS, fish spawning with the North Dakota Game and Fish Department, and wetland delineation with the Natural Resources Conservation Service.
Why VCSU?
An excellent education at an affordable cost.
Small class sizes that enable faculty to really focus on field trips and hands-on learning.
Very field-oriented classes – a sampling of field trips includes: banding ducks, seining fishes, back-pack electrofishing, birding, wetland delineation, plant surveys, plant collecting and ID, spawning fishes, wildlife necropsies, water sampling techniques, telemetry, and many others.
All Science Faculty have their Ph.D's, and teach their own labs. You probably have not thought about this, but at larger institutions, graduate students often are the ones to teach the labs.
There are excellent hunting and fishing opportunities in the immediate area, and nonresident full-time students qualify for nonlottery resident licenses at resident costs. This is a big plus for nonresident students!
Outstanding facilities – Rhoades Science building is new (2013) and has excellent labs that were designed around the Fisheries and Wildlife Science major. Examples include the Aquatics Lab, Terrestrial Lab, and the Necropsy room.
Students have multiple opportunities to travel to regional and national professional meetings. Faculty take students to the Dakota Chapter of The American Fisheries Society, and the North Dakota Chapter of The Wildlife Society meeting annually.
We have 2 active natural resources related student clubs. They are the Fisheries and Wildlife Conservation Club and the VCSU American Fisheries Society Student Subunit.
Students can focus on just one Focus, such as Conservation Law Enforcement, or can Focus in all three academic areas if they want.
VCSU graduates have been very successful finding full-time employment after graduation.
Employment Resources
Seasonal and full-time jobs in Natural Resource Management can be competitive. Make sure you are applying for many jobs early in the season. Talk to one of our faculty members at VCSU about making your resume as competitive as possible. Below are some great resources and available jobs.
Bob Anderson, Ph.D.

Professor

Departments

Fisheries and Wildlife Science, Science

Office Location

Rhoades Science Center 203A

Casey Williams, Ph.D.

Professor

Departments

Fisheries and Wildlife Science, Science

Office Location

Rhoades Science Center 203E