General News
Community Invited to Ribbon Cutting for VCSU's Center for the Arts
Apr 18, 2022
Ribbon Cutting event begins at 2 p.m., Thursday, April 21
Valley City, ND – Valley City State University will have an official ribbon cutting ceremony celebrating the completion of the new Center for the Arts.
The ribbon cutting event will begin at 2 p.m., Thursday, April 21, and will include a short program, musical performance, and light refreshments. Following the performance students will be offering guided tours of the new building and the Art Gallery will be open. The Center for the Arts is located on the west side of campus at the intersection of 4th Ave. SW and Viking Drive.
At 7:30 p.m. there will be a full concert performance featuring the VCSU Percussion Ensemble, Wind Ensemble, Concert Choir, and Concert Band. The annual Juried Art Exhibition featuring pieces created by VCSU students will also be on display. The public is encouraged to visit the art gallery and attend both the ribbon cutting and evening concert.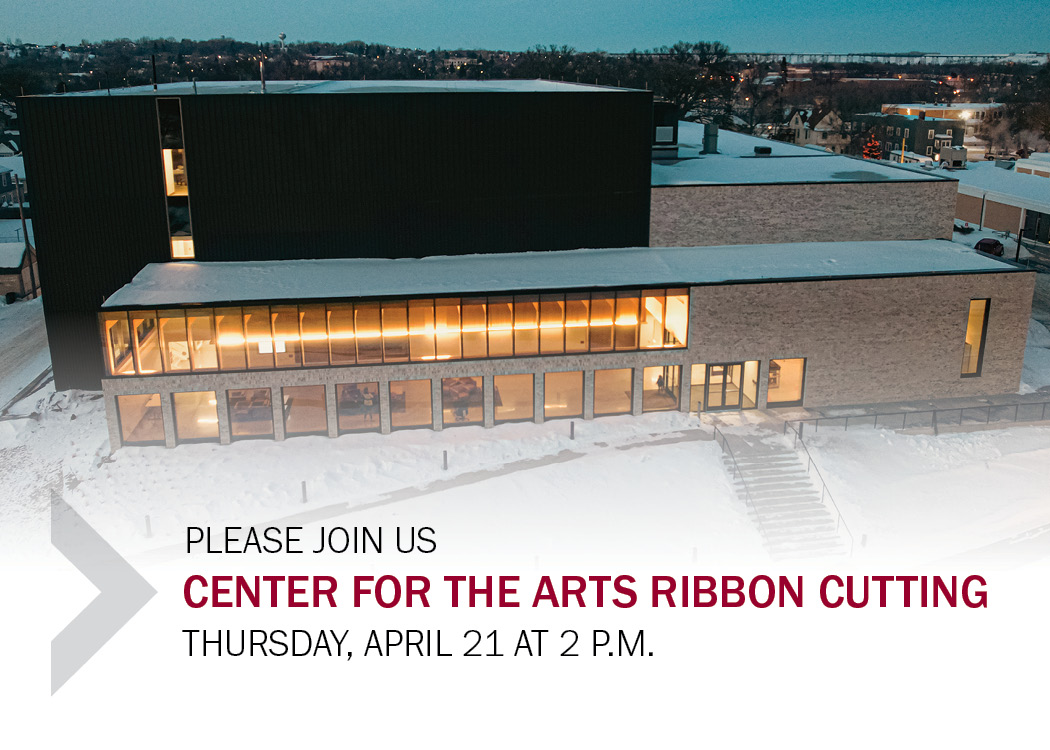 "This will be a historic day for our students, faculty, and the community," VCSU President Alan LaFave said. "The Center for the Arts provides state-of-the-art classroom environments for our students. The performance hall and art gallery provide spaces for the arts to flourish. This facility brings our campus into the future."
During the evening concert, VCSU Alumna Myron Sommerfeld will present the inaugural Peggy Lee scholarship to a student. Carol Houghlum, daughter of VCSU Music Hall of Fame member James Ployhar, will also speak. The final piece performed during the concert will be The Flickertail, composed by Ployhar. The Flickertail is the state march of North Dakota.
Construction of the Center for the Arts began in 2019 after funding was approved by the North Dakota Legislature. The building has more than eight acres of sheetrock, 242 tons of steel and more than 26 miles of wire. The building includes a 350-seat performance hall, recording and production studio, a ceramics lab, digital design lab and art gallery.
To arrange an interview, contact Tammy Jo Anderson Taft by emailing TammyJo.Taft@vcsu.edu, or call 701-845-7227.