Profiles
Kaitlyn Myrum
Sep 20, 2021
Kaitlyn Myrum ('22), a native of Petersburg, ND, reflects on her time within the VCSU Language and Literature department as an English Education major and Spanish minor.
---
What made you decide to major in English Education?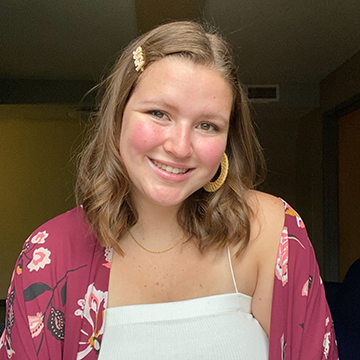 I have always loved reading and writing, and I want to share that passion with students. In high school, one of my English teachers made a lasting impact on my life, so I decided to pursue a career that would allow me to do the same.
As for my minor in Spanish: I have been learning Spanish since 5th grade. I fell in love with the culture and have decided to delve deeper into everything to do with the Spanish language.
What's your favorite part of studying English Education?
It is hard to pick one thing. I would say that the writing is the best part because as I read more of the literature associated with both English and Spanish, my ability to write improves greatly. My short stories are more interesting, and my academic writing is well-developed.
What have you enjoyed about VCSU's Language and Literature (L&L) Department so far?
The professors. Each of them offers so much support for their students.
What advice do you have for future L&L majors?
Take advantage of the library and all of the resources they have available to you.
You graduate this spring! Can you reflect on your time here at VCSU?
College has been the best experience of my life. I was worried coming in that I wasn't going to make any friends and I was going to be so focused on school that I wouldn't have time for fun. I was really wrong. I met some of my best friends in my first week at VCSU in the form of my roommate and my L2L group.
One of my best memories was singing karaoke at one of the late-night activities. That sticks in my mind because I could really feel how supportive the VCSU community could be.
I want to thank all of my professors and my advisor, Jodi Shorma, for helping me through college. There were moments that were incredibly tough, but with their help, I was able to make it through. Dave Bass and Dave Hanson really helped me grow as an educator. They provided me with all of the tools I needed to get through student teaching and a really big shift in my life. I want to thank them, especially for all they did to help me grow as both a student and an educator.
One of the things I will miss and have missed the most is the atmosphere of the campus. There are places to study and places to chat with friends. The atmosphere is something that can't be replicated anywhere else. Neither can the conversations at the Caf during lunch and supper. I will never forget all the moments I laughed until I cried alongside some of my mentors and peers. I cherish the hours that we would spend laughing and chatting about the small things and the political things in life. I will deeply miss the squished seating as we tried to fit nearly 12 people at our table just so we could all contribute to the fun. I will also miss seeing Pat and asking her to make me a drink throughout the week. Her conversation is the best.
One of my greatest accomplishments would be completing my degree with a minor in three years. I wanted to complete my degree as fast as I could so I could start teaching and making a difference. I pushed myself to my limits and was able to prove to myself that I could do it. There were moments when it was really hard to stay motivated and finish what I had started, but I owe a lot of my comebacks to my best friends. They stuck by my side and worked through homework with me and motivated me to be the best student I could be. They were my rock throughout these past few years, and I thank them for everything.
A piece of advice for incoming students: become who you are meant to be. If you work hard enough at anything, you can do it. I had no idea what to expect when I was going into college, but I am sure glad that I opened myself up to opportunities and new ideas. No matter where you end up, it was meant to be. Make friends where you can because your fellow Vikings are going to become like family. Hop on the ship and be proud to be a member of the VCSU community. To close, I want to thank everyone at VCSU. You made my college experience one that I will cherish until the end of my life. Campus will forever be my home, and I can't wait to call myself a VCSU alum at the end of May. WE ALL ROW!
---
Meet more students like Kaitlyn Myrum