Profiles
Hannah Anderson
Jul 8, 2021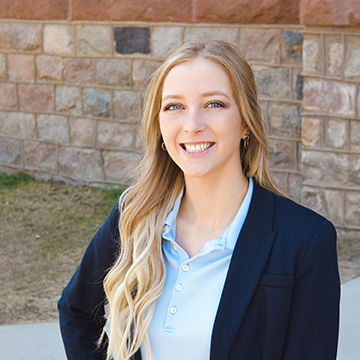 What was your major at VCSU?
I was a double major in English with a professional writing concentration, and Communications with a double cognate of digital media and journalism and a minor in marketing. 
What attracted you to VCSU?
The small-town, community atmosphere drew me to VCSU. I'm very much a people person, so I wanted to attend a school where I could make strong connections and relationships. 
Why did you choose English and Communications?
I originally wanted to go into English Education but then found that I have more interest in a business setting than that of a classroom. I chose my program to cater to my writing and communications abilities, but in a different way than through teaching. I learned that I held a wide variety of interest and skills, and I wanted to push myself outside of my comfort zone, so I ventured into marketing and public relations and found a love for it! 
What did you enjoy most about your field?
What I loved most about my field is the opportunity to connect. Whether I am connecting with coworkers, athletes, or strangers through social media and public relations, I enjoy having the opportunity to communicate and connect beyond the surface.
How did VCSU help you reach your goals?
VCSU provided me with ample opportunities to grow both personally and professionally. Between opportunities for internships, clubs, organizations, and the social atmosphere, I found VCSU to be the perfect means of growth for me in many ways. I feel prepared for life and confident in my abilities thanks to VCSU.
What do you enjoy most about VCSU?
What I loved most about VCSU was the sense of belonging that anyone can have. I felt as if I could go up to any student, staff or faculty member and make an instant connection. We may be small, but I definitely consider VCSU to be mighty. I love my VCSU family.
What are some of your hobbies?
Some of my hobbies include spending time with friends and family, cuddling my kitty, Sheila, cooking, trying new food, and drinking coffee. ?
Any advice for students thinking about attending VCSU?
If you are considering VCSU as your potential school, take this as your sign to do it! VCSU offers such a unique, personalized experience that I can't possibly encompass in these short, few sentences. VCSU is warm, welcoming, and everyone here tailors your experience for your utmost level of comfort. Come to Valley City – come HOME!   
---
Meet more students like Hannah Anderson