Profiles
Harmony Richman
Apr 30, 2021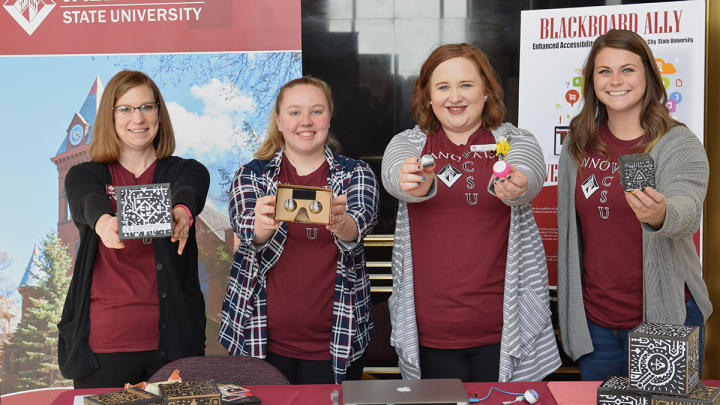 Tell us a little bit about yourself.
I was born and raised in Forest Lake, MN as the oldest of three children. I flew the nest to Minnesota State University Moorhead (MSUM) where I obtained my Bachelor of Science in Math Education in 2008. During my undergraduate years, I met my future husband. I completed my Master of Education in Curriculum and Instruction with an emphasis in Technology Education in 2011, also from MSUM.
My husband and I married in September 2011. We reside in Buffalo, ND with our dog Zeus (10). In the summers you can find me at the Fargo-Moorhead RedHawks baseball field, working in my garden, or reading a good book.
What led you to become a professor at VCSU?
I like to believe the path to becoming a professor found me through a series of paths that have interwoven themselves. I began my teaching career at a for-profit college in Moorhead, teaching pre-college math courses while also an administrator as registrar. I wanted something closer to where we lived and started as an assistant registrar for VCSU in 2010, while at the same time continuing my adjunct teaching at the for-profit college in Moorhead at night.
I then transitioned to become the pre-college math teacher for Dakota College at Bottineau at the VCSU campus in 2012. Finally, I found my current home with the School of Education and am truly blessed by this continued experience as I am able to share my love and excitement for both math and technology every day.
What attracted you to Valley City State, and what's kept you here?
The learners at VCSU always grab hold of my heart in unique and individual ways. The way we are all able to learn together while at the same time pushing ourselves out of our comfort zones allows all to grow in ways we never could have imagined. We succeed and fail together, but at the end of the day, we have a mutual respect for how we can always do better. I think that's my favorite part of our entire community, the support we give one another.
What's the biggest takeaway so far from your experience at VCSU?
This is not a "job" to me, it is my entire passion and what drives me every day. In the morning, with coffee in hand, I tell my husband, "Okay, I'm off to school for the day!"
---
Meet more students like Harmony Richman