Hotline
Hotline // September 20, 2023
Sep 20, 2023

This week's Hotline includes the following articles:
---
VCSU enrolls more than 1,700 for first time in school history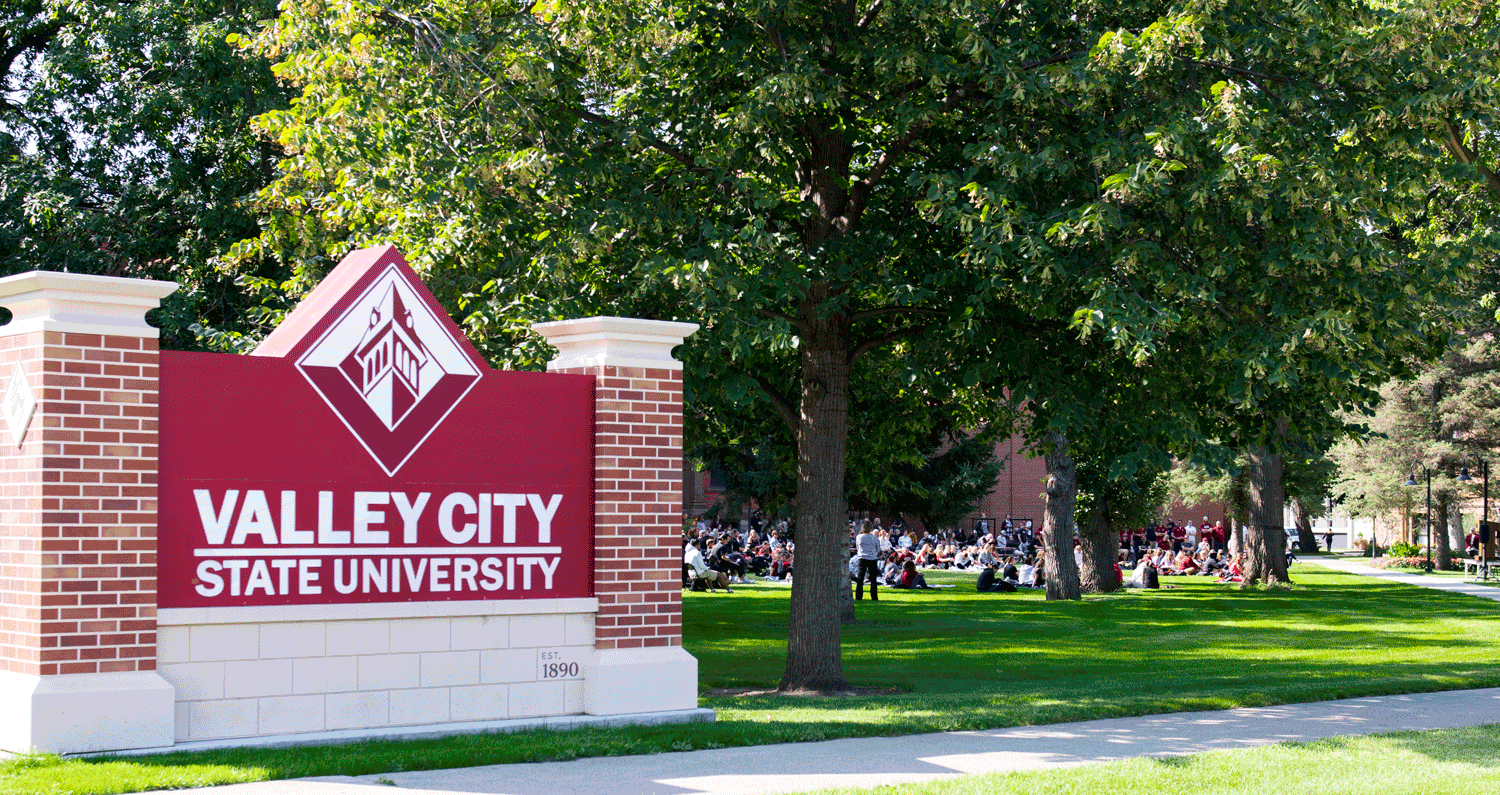 1,754 students enrolled reflects 20 years of growth
Valley City, ND – Valley City State University (VCSU) today announced it has enrolled the largest number of students in a fall semester in school history.
There are a record 1,754 students in total enrolled at VCSU this semester. That number includes 1,628 undergraduate students, the most in school history. Of those students, 310 are new undergraduate students including freshmen and transfers. The school's full-time equivalent (FTE) also increased as compared to prior years, another measure of growth.
"Our fall enrollment reflects the steady growth and stability we have cultivated at VCSU. With growing enrollment and important projects like the renovation of McCarthy Hall on the horizon, VCSU's upward trajectory is noticeable," President Alan LaFave said. "We're happy to share our good news and excited to have new Vikings on campus at such a pivotal time."
"It's clear students, both current and prospective, recognize the strength of a VCSU degree by enrolling and trusting us with their education and future." LaFave said. "This growth is not possible without our faculty and staff creating an environment that helps students excel and working hard to match the needs of an ever-changing educational landscape."
"Our academic offerings are poised to meet the current critical and up-and-coming needs of our state. Our many partnerships and academic agreements with colleges across the state help ensure we're doing our part to fill gaps in the workforce," said Larry Brooks, Vice President of Academic Affairs. "I'm pleased to see so many students taking the opportunity to pursue an education at VCSU."
As compared to last year, VCSU has 96 more students enrolled this fall and 20 more full time students. The number of elementary education students enrolled through a partnership with North Dakota State University also increased.
"With growth propelling many programs forward, VCSU continues to be recognized as a great academic investment. Our accreditation and generous scholarship programs are an essential part of our mission to provide quality education and experiences to our students," said Dr. LaFave.
For more information, or to arrange an interview about VCSU, contact Tammy Jo Anderson Taft by emailing TammyJo.Taft@vcsu.edu, or calling 701-845-7227.
Homecoming activities will continue through Saturday, Sept. 23.
The Valley City State University (VCSU) Foundation and Alumni Association is excited to welcome Alumni back to VCSU for Homecoming weekend of September 22 and 23.
"We're eager to welcome back alumni, family, and friends back to campus," Executive Director for Advancement Cory Anderson said. "Homecoming is a great opportunity to reconnect with alumni and learn about what is happening on our campus and throughout the Valley City community."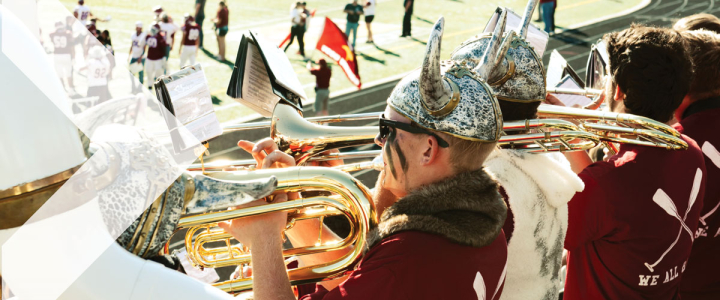 "This weekend will be filled with fun activities and events. We invite all alumni, students, staff, faculty, and fellow community members to attend," Assistant Director for Advancement & Alumni Relations Kim Svenningsen Hesch said.
There will be numerous events during Homecoming weekend including the VCSU Parade, an Ice Cream Social for Alumni, and Self-Guided Walking Tours. A complete list of events can be found at www.vcsu.edu/homecoming.
On Monday, Sept. 18, the 41st Annual Bill Osmon Fun Run kicks off the week at 4 p.m. at Lokken Stadium.
Alumni are welcome to join an Ice Cream Social on Friday, September 22, at 2:30 p.m. in the Student Center. Walking tours will begin at 3 p.m., but Alumni and community members are welcome to take a self-guided tour at anytime that will feature notable places on campus. To take this tour, visit www.vcsu.edu/homecoming or scan a QR code on the door of any academic building.
Also on Friday, Sept. 22, starting at 5 p.m. the Hall of Fame Social will begin at the Valley City Eagles Club. Following the social will be the Hall of Fame Banquet and Ceremony, as well as an All-Alumni Social at 8:00 p.m. also at the Valley City Eagles Club.
On Saturday, Sept. 23, the Alumni Honors Breakfast will start at 8:30 a.m. in the Student Center. Tickets for breakfast will be $15 and available to purchase at the door.
The Homecoming Parade on Central Avenue will start at 10:30 a.m. Tailgating at Lokken Stadium will begin at 11 a.m. to 2 p.m. Following the tailgating, the VCSU Football team will face Mayville State University with kickoff starting at 2 p.m.
The All Alumni & Friends Social will take place after the football game at the Valley City Eagles Club at 5 p.m. After the social, the Valley City Eagles will host a college student and alumni dance.
For more information about VCSU Homecoming 2023 activities, contact the VCSU Foundation and Alumni Office.
VCSU Planetarium to celebrate 50th Anniversary
Valley City State University invites you to join us for an open house celebrating 50 years of the VCSU Planetarium, North Dakota's only planetarium.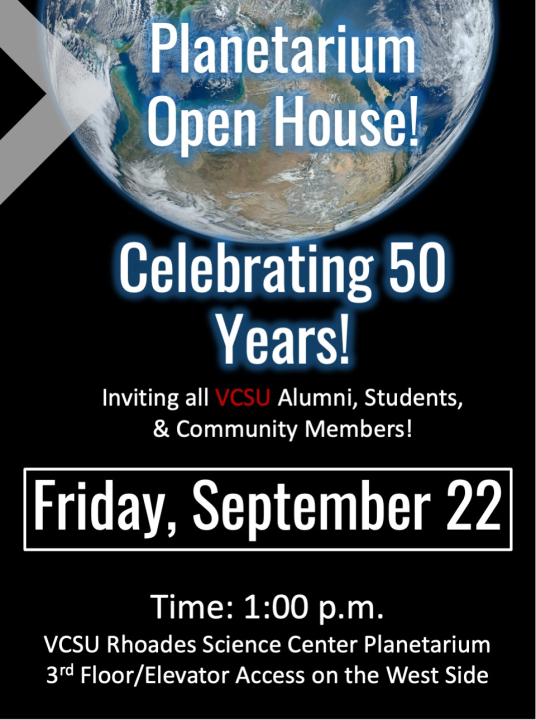 The event will take place Friday, Sept. 22 at 1 p.m. in the Rhoades Science Center Planetarium (Room 309). Elevator access is available through the west door of the Rhoades Science Center.
VCSU Student Earns First Place, Perfect Score in Trap Competition
100 Straight!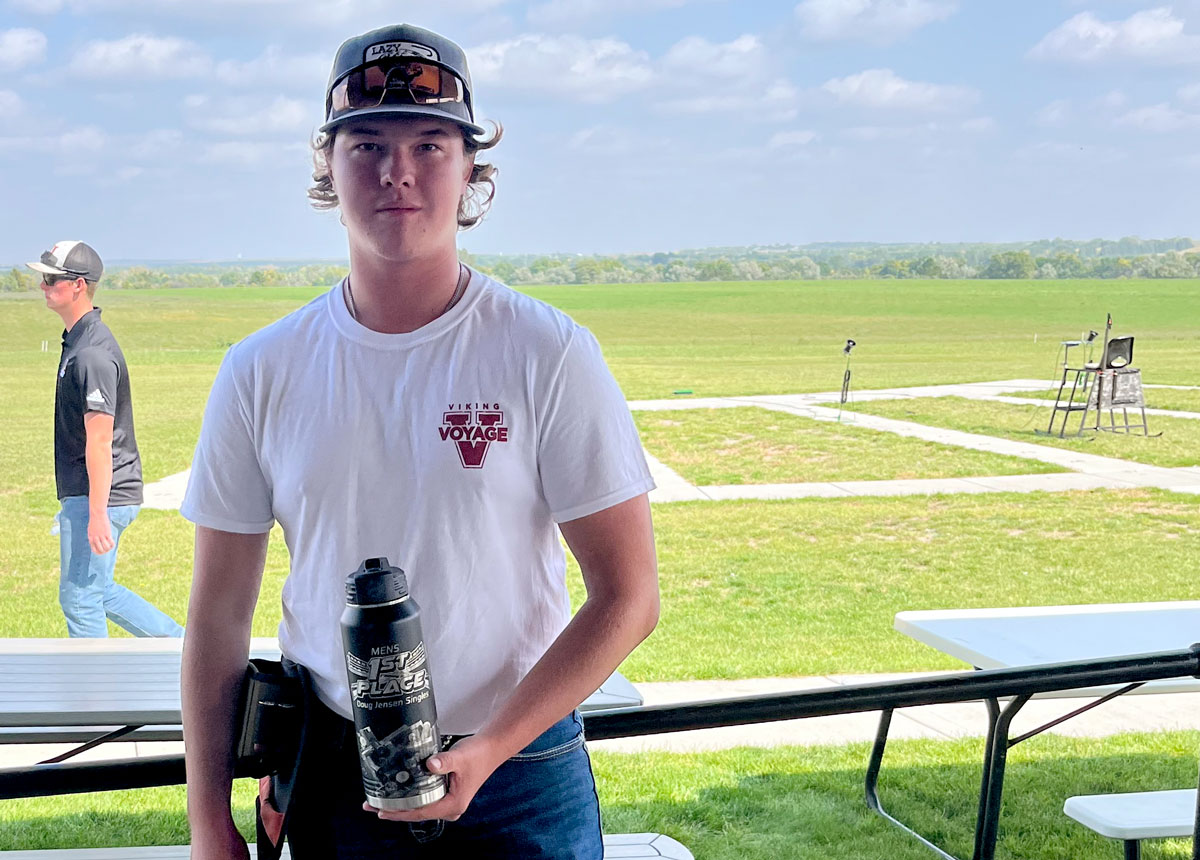 The VCSU Trap Club traveled to Bismarck, ND on Saturday, Sept. 16 for the 2023 Fall Shootout hosted by Bismark State College. They were among seven college teams shooting at the Capital City Gun Club.
Kaden Schafer, a first-year student majoring in Fisheries and Wildlife Sciences, was the 1st Place Male in Singles Trap with a perfect score of 100 Straight.
"Kaden's skill and focus during the event was reflected in the results," VCSU Trap Club Advisor, Dr. Nick Galt said. "It was exciting to be a part of it and witness such an amazing accomplishment."
The VCSU Trap Club's top five shooters scored a total of 452 out of 500.
"With a minimal amount of practice at the start of the semester and new members on the team this year, I'd say it was a great start," Galt added. "I'm looking forward to another fun year with this growing club!"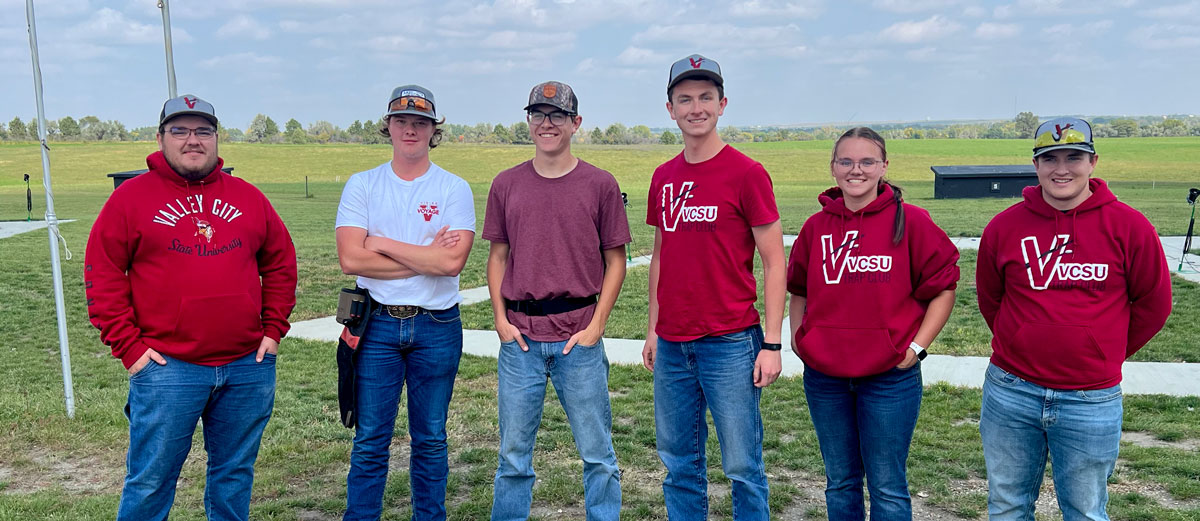 VanHorn presents at CSTAND conference
Dr. Shannon VanHorn presented at the recent Communication, Speech, and Theatre Association of North Dakota's (CSTAND) annual conference Sept. 14-16 at the Baymont Inn and Suites in Mandan.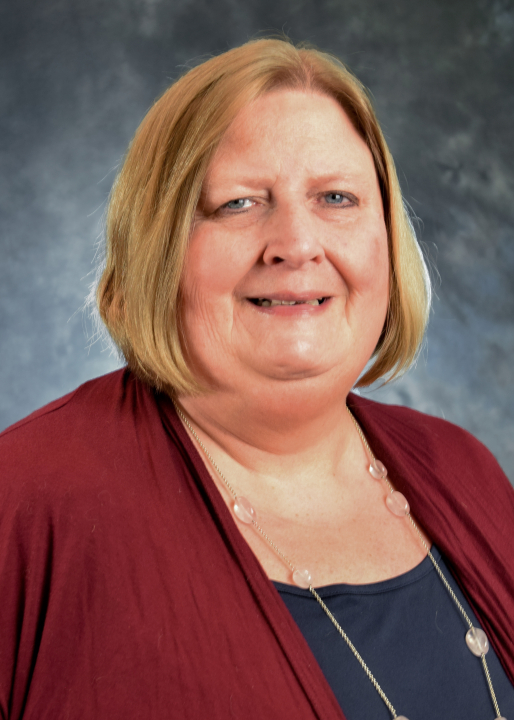 VanHorn participated in panels on Bridging the Gap Between English and Public Speaking, What is Chat GPT (and how to use it), Media Literacy, and Generation Z.
CSTAND is comprised of communication, speech, and theatre instructors and coaches throughout K-12 and Higher Education.
Vareberg '12 receives Scholar of the Year award
Dr. Kyle Vareberg, '12, was awarded the Scholar of the Year at the annual Communication, Speech, and Theatre Association of North Dakota's conference on Sept. 14-16 at the Baymont Inn in Mandan.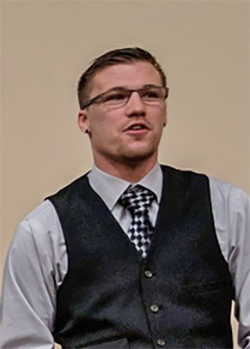 Vareberg is an Assistant Professor of Communication at Northeastern State University in Tahlequah, Okla. His research focuses on the student-instructor relationship, especially on that which is mediated by technologies. Kyle's work has been published in The Internet and Higher Education, Educational Media International, and Education and Information Technologies, and the journal of Communication, Speech, and Theatre in North Dakota.
Vareberg graduated from VCSU in 2012 with a double major in Communication and English.
Flu clinic set for Sept. 27
City-County Health District (CCHD) will host a flu shot clinic at Valley City State University on Wednesday, Sept. 27 from 10:30 a.m. – 12:15 p.m. in the Student Center Skoal Room.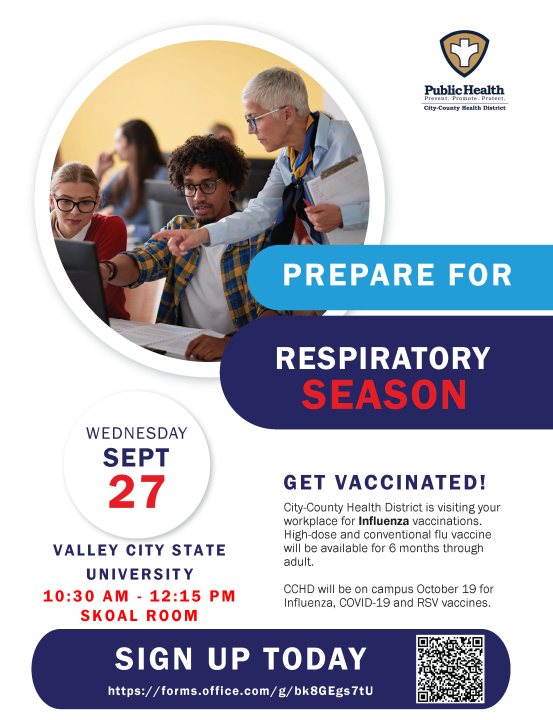 CCHD has upgraded to online registration. To register for the clinic, complete this survey by Sunday, Sept. 24 at 11:59 p.m. Upon completing the survey you will not be asked to sign up for a specific time, you can come anytime from 10:30 a.m. – 12:15 p.m.
A second clinic will be offered on Thursday, Oct. 19 from 10:30 a.m. – 12:15 p.m. in the Skoal Room. At this clinic, CCHD will be offering influenza, COVID-19, and RSV vaccines. There will be a separate link for the October clinic which will be available at a later date.
A voucher for 3000 points will be available for employees who participate in the Dakota Wellness Program!
For any questions, please contact CCHD at 701-845-8518.
'Why Trust Science?' public lecture to take place Oct. 4
Why Trust Science? presented by Dr. Naomi Oreskes, world-renowned Harvard professor, will take place Oct. 4 at 7:30 p.m. in the Center for the Arts Performance Hall. The lecture is open to the public and will cover topics like CO2 storage, climate change, COVID vaccines, and more.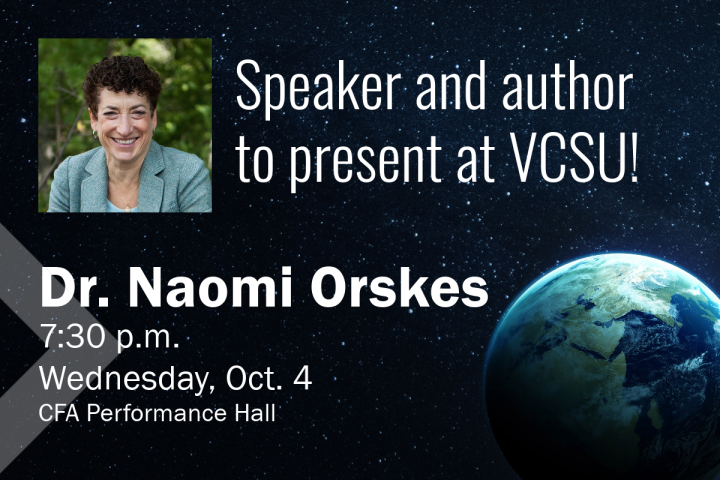 The event is sponsored by What in the World Is Going On? and Dr. Gilbert Kuipers, retired VCSU faculty member.
'Eso, Eso' art exhibit on display through Oct. 6
Join us for the VCSU Art Gallery's first exhibition of the 2023-24 school year, featuring "Eso, Eso" by visiting artist Wendy Eggerman. Wendy is a talented potter from St. Paul, Minn. whose work focuses on straightforward forms with layered, somewhat chaotic, surfaces. Her art is a reflection of her experiences navigating the world as a Mexican-Scandinavian woman.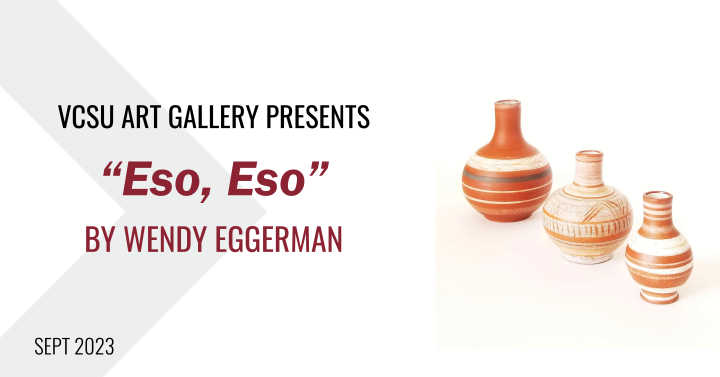 The exhibition will run from Aug. 21 through Oct. 6. There will also be a virtual walk-through of the exhibition. Additionally, the artist talk will take place on Sept. 21 at 3:30 p.m. in the Center for the Arts Choir Room (Room 177). A reception will follow in the Center for the Arts Lobby until 5:30 pm.
Viking sports update
Football
VCSU Football improved its record to 2-1, defeating Dakota State University on Saturday in the NSAA conference opener. Justice Bice scored a pair of touchdowns and Riley Gerhardt had three sacks as VCSU won 14-6 in Madison, S.D. The Vikings host Mayville State on Sept. 23.
Volleyball
Viking Volleyball continued its strong start to the season with a pair of wins last week, sweeping matches against Dickinson State and Briar Cliff University. The Vikings have a 13-3 overall record and are 1-0 in conference play. VCSU is receiving votes in the latest NAIA Top 25 Poll. On Sept 21, VCSU will host Mayville State at 6 p.m. That match will be played at the W.E. Osmon Fieldhouse.
Golf
The Valley City State golf teams continue to improve tournament scores this fall after several Vikings carded career-bests at the Viking Fall Invite played Monday and Tuesday at the par-72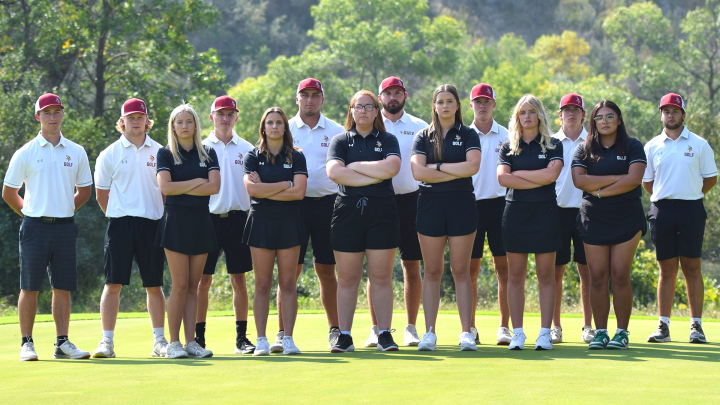 CrossRoads Golf Course in Carrington. Read more: https://vcsuvikings.com/news/2023/9/19/golf-several-vikings-card-career-lows-at-viking-fall-invite.aspx
Baseball
The Valley City State and Dickinson State baseball teams played a marathon 22-inning doubleheader Saturday afternoon, splitting a pair of games at Valley City's Charlie Brown Field. VCSU won game one 5-4 in nine innings, and then Dickinson won game two 11-7 in 13 innings. Read more: https://vcsuvikings.com/news/2023/9/16/baseball-vikings-split-22-inning-doubleheader.aspx
Cross Country
Viking Cross County is back in action this weekend, traveling to Minneapolis, Minn., for the large Roy Griak Invitational which is hosted by the University of Minnesota.
Upcoming Events
Sept. 20: Baseball at Univ. of Jamestown, 6 p.m.
Sept. 21: Volleyball vs. Mayville State, 6 p.m. (W.E. Osmon Fieldhouse)
Sept. 22: Cross Country at Roy Griak Invite, 11:30 a.m. (Minneapolis, Minn.)
Sept. 23: Football vs. Mayville State, 2 p.m.
Sept. 24: Softball at NDSU (scrimmage), 12 p.m. (Fargo, N.D.)
Sept. 27: Baseball vs. Univ. of Jamestown, 6 p.m.
What's happening at VCSU and around Valley City...

Monday, August 14 – Friday, October 6
Visiting Artist Exhibit – Eso, Eso by Wendy Eggerman, Center for the Arts
Friday, September 22
5 p.m. VCSU Homecoming Hall of Fame Social, Banquet & Ceremony, Valley City Eagles Club
Saturday, September 23
8 a.m. VCSU Homecoming Alumni Honors Breakfast, VCSU Student Center
10:30 a.m. VCSU Homecoming Parade, Downtown Valley City
2 p.m. VCSU Homecoming Football Game vs. Mayville State University, Lokken Stadium
5 p.m. VCSU Homecoming Post Game Social, Valley City Eagles Club
Find out what's happening in the community on the Valley City Community Calendar: https://www.valleycitycalendar.com/