Profiles
Isabel Grueneich
Apr 18, 2023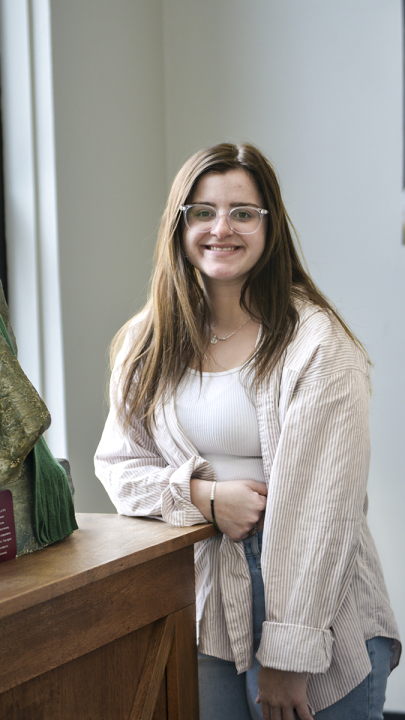 Isabel Grueneich, Gilman Program Award winner, is paving the way for psychology students on campus. By winning this prestigious award that will provide funding for her to continue her studies overseas, she demonstrates to other students that hard work and involvement on campus pay off.
Hometown: Ellendale, ND
Majors: Psychology and Human Services
Graduation year: December 2023
What are your career goals and where do you see yourself after graduation?
I plan to go on to graduate school and either pursue a degree in social work or clinical counseling, to become a professional counselor.
What attracted you to VCSU?
I liked the smaller, tight-knit community and classes. I also was very attracted to the reasonably priced classes.
Why did you choose your specific major?
I've known that my passion was helping people since I was very young, and the counseling profession was almost common sense once I found my passion.
Which activities or groups are you involved in on campus?
I'm in Psych and Human Services Club, Native American Club, Social Justice Counsel, and Global Exploration Club.
Any advice for students thinking about attending VCSU?
Everyone says the same thing about getting involved in as many things as possible, it looks good on resumés, etc. I would suggest taking your first year pretty slow. Don't overload yourself with the pressure of playing a key role in five different clubs. Experiment with different clubs, attend when you want to, and feel free to change your mind. Don't worry about "only" being able to handle a small load your first year, because as you adapt you'll be able to handle way more than you thought possible.
Also, you'll go through many different friends or friend groups. There are always more people out there and more compatible individuals than you realize. I've personally moved five times throughout my college years. Each person and experience have given lessons and been blessings to me. Everything in these last three and a half years has been for a reason, and I wouldn't change a thing.
Lastly, bumps in the road will seem like the end of the world sometimes — experience all of those emotions to the fullest, learn all they have to teach and you'll come out the other side as an even better person.
---
Meet more students like Isabel Grueneich