Academics
VCSU Hosts 2023 Scholar Symposium
May 4, 2023
60+ students and faculty present academic research and projects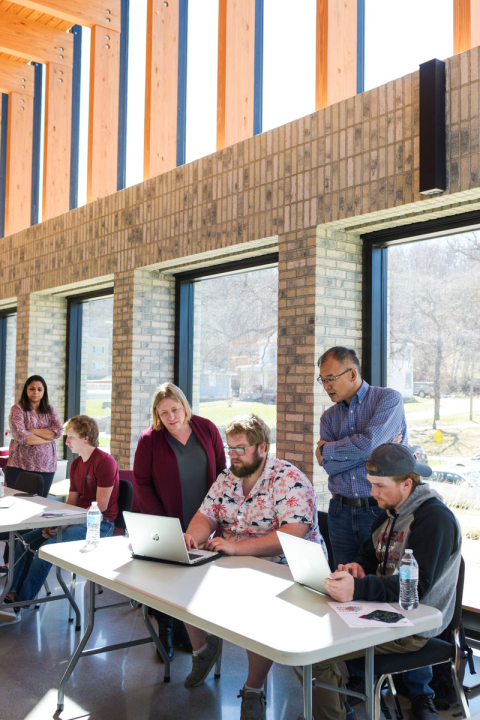 Valley City State University's (VCSU) hosted the 2023 Scholar Symposium on Tuesday, May 2. The Symposium featured the work of more than 60 students and faculty across multiple disciplines.
The Symposium gave undergraduate students the opportunity to showcase their research, writing, and other creative projects developed over the past academic year. The student-designed projects represented seven departments across campus.
"This event gives students the opportunity to display their research and present on the research activities that they've done over the last year," President Alan LaFave said. "This helps students advance in their disciplines and put theory into practice."
"The symposium is a celebration of student research across campus," event coordinator and associate professor Emily Wicktor said. "We wanted to highlight the wide range of scholarship VCSU's students produce individually and collaboratively."
Recipients of the 2022-23 SOAR (Student Opportunities for Academic Research) Award also formally presented their faculty-mentored advanced research projects.  VCSU had two SOAR Students this academic year: Makenzee Stone and Alexa Walby.
Walby said, "I did a psychoanalysis of the movie Joker and I just kind of studied the character of Arthur Fleck and how he came to be this infamous villain."  The research was done with the mentorship of Associate Professor J. Gregory Brister.
Stone studied the cadet nursing program at the beginning of World War II. "I've always been interested in World War two, seeing how people found careers and how women took over the workforce," Stone said. "I've always been interested in this topic and I got to explore it further." Stone's mentor was Professor Steven King.
For more information about the scholar symposium or to schedule an interview, contact Tammy Jo Anderson Taft at tammyjo.taft@vcsu.edu or by calling 701-845-7227.