Profiles
Angeline Gannon
Jan 25, 2021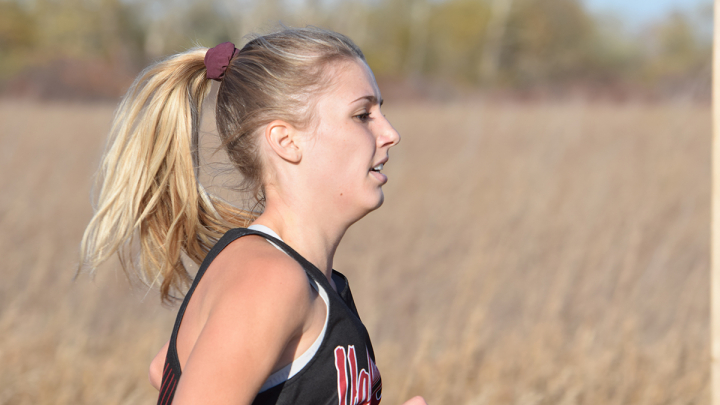 Angeline Gannon never envisioned becoming a Viking as she approached high school graduation. But as she considered colleges, the Bismarck native decided to take a visit to VCSU's campus on the urging of her dad – a VCSU alumnus.  
"I had an amazing tour guide, and I fell in love with VCSU," she said. "Driving back home I told my mom that even though I had only been there a couple hours, it already felt like a second home to me."  
The rest, as they say, is history.   
Since arriving at her "second home" in the fall of 2018, Angeline has been busy creating a memorable Viking experience – taking advantages of the opportunities a small campus presents. She has truly immersed herself in campus life, pursuing a degree in history education while also competing as a dual-sport athlete and serving as student senate president.  
"The pride of being a Viking is what has kept me here," she said. "VCSU has a lot of pride – not just on campus, but within the Valley City community as well. It is amazing to be part of something that has so much support on and beyond campus." 
Angeline was elected student senate president in 2019 and has been involved in numerous campus projects and decisions. She participated in President Alan LaFave's inauguration ceremony, took an active role in helping promote the new Center for the Arts to the state legislature, and later gave a speech at the building's groundbreaking ceremony. As student senate president, she is constantly working with VCSU staff and her fellow students to move VCSU forward.   
Athletically, Angeline competes as both a cross country and track and field athlete, and she earned All-Conference this season after finishing seventh at the North Star Athletic Association Cross Country Championships. She is also heavily involved on campus as a resident assistant, Viking Ambassador and Learning to Live Mentor, along with being a member of the Student-Athlete Advisory Council and the history club. Through it all, she's established tremendous bonds with her teammates and others on campus – leading to memories she won't soon forget.   
"At the conference cross country meet my freshman year, we had three athletes qualify for nationals and the rest of my teammates had great races," recalled Angeline. "I personally had a horrible race, but I did not care because I was so happy for and proud of my teammates. The energy and the celebration from our little cross country team was unmatched to anything I have felt before. It was a truly amazing and memorable moment to be a Viking." 
Angeline is planning to graduate from VCSU in the fall of 2022 with a degree in history education. She is also pursuing a minor in political science and a certificate in coaching. After graduation, Angeline intends to work as a high school teacher and eventually plans to earn her master's degree and pursue a career as a school administrator. 
---
Meet more students like Angeline Gannon