Profiles
Connor Aanderud
Nov 22, 2022

Connor Aanderud, senior, was interested in coding and computer science but wanted a smaller campus and educational experience. As he prepares to graduate in December of 2022, Aanderud reflects on the opportunities and skills he has gained as a student in the Computer Science and Software Engineering program at VCSU.
Major:
Software Engineering
Hometown:
Hillsboro, North Dakota
When will you graduate?
December 2022
What brought you to VCSU?
It was the perfect jump up to a big enough town for someone like myself who grew up and enjoyed a small hometown environment but wanted to expand a little bit. I also really liked the small overall size of the school as well as the small department and class size offered to truly help in my education and not just be a number in a class like many other larger universities. I thought it was a great place where I would be able to excel and meet my educational goals for myself as well as build connections as the size of VCSU really allowed me to get to know my classmates and professors.
What has been your favorite CSSE class and why?
It's hard for me to pick just one class that was my favorite as there were many that I enjoyed thoroughly, but if I had to pick one it would either be SE 211, Software Construction or SE 311, Software Design and Architecture because they were sequence courses and mainly focused on the coding and programming side of things which is what I really got into the Software Engineering field of study for.
Do you have a vision for your career?
The CSSE department and VCSU career services really does a phenomenal job in helping a student who wants to be proactive in the career hunt and search so I already have a job, that I am currently working, before even graduating and receiving my degree. I give all the credit to my department and career services for helping me achieve this. My vision or career goals are pretty simple after that in just hopefully excelling with any assignment I am given and taking any opportunity in advancement I may get.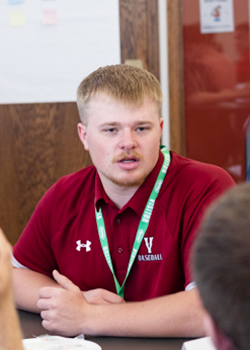 Where do you see yourself in the future?
I see myself working at my current company for a very long time, hopefully the duration and length of my career in the software development industry.
Where did you intern while studying at VCSU?
I had a remote summer internship as a software developer with Digi-Key Electronics based out of Thief River Falls, Minnesota.
How is your time at VCSU preparing you for the future?
I thought VCSU did a great job in building a starting point or base knowledge level for me to build off of and learn from in whatever was required of me with any career choice I would have made in the software development industry.
What is your favorite part of VCSU?
My favorite part about VCSU was how building relationships all over campus came with such ease. There was never a moment where I felt I couldn't talk to or ask a professor any question I may have had or about any course I took.
---