Profiles
Tasha Piehl-Thomas
Jan 24, 2023
Tasha Piehl-Thomas, '18, a business process integration management graduate, was encouraged by her professor to apply for an internship at Doosan Digital Innovation America (DDIA) during her undergrad. After she found the courage to apply, that opportunity led her down a road she is still traveling.
Hometown:
Marion, N.D.
When did you graduate and what was your major at VCSU?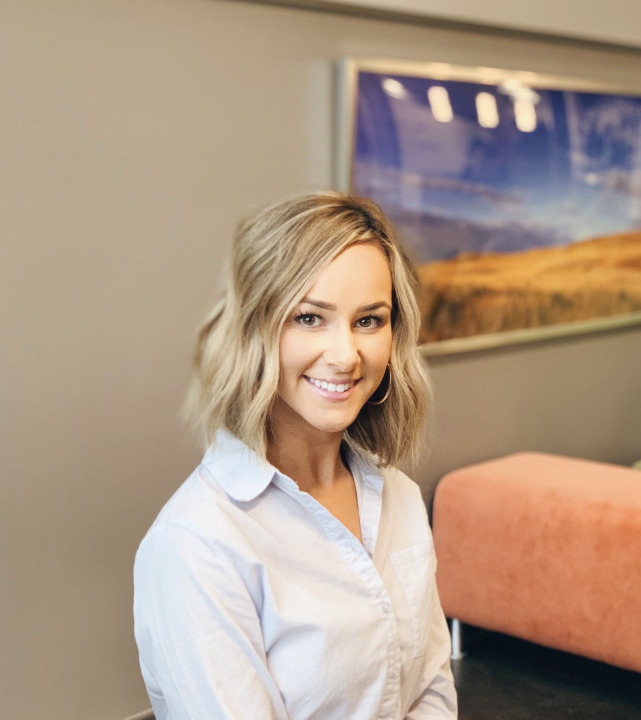 I earned my bachelor's degree in Business Process Integration Management with a Minor in Business Software Applications then went on to obtain my Master of Business Administration (MBA) at the University of Mary.
Tell us about yourself.
While I was pursuing my undergrad degree at VCSU, I was offered an opportunity through one of my Computer Science professors at the time to apply to an internship. As nervous as I was to interview (and let's be honest, taking the next step in your life or career can always be nerve racking), I found the courage to apply. I received an acceptance offer and so, in January of 2017, I decided to move to Fargo to pursue my internship, while also still making the trip back to Valley City to complete my in-person classes.
Where you do you live and work currently?
After moving to Fargo, I met my now-husband, Eric, and we reside in downtown Fargo with our golden retriever named Leo. In our free time, we like to go to the lake in Park Rapids, MN or catch up with friends and family. Other times, I enjoy cozying up on the couch and reading a good book or listening to my favorite podcasts.
Where you do you live and work currently?
I currently live in Fargo N.D. and work for Doosan Digital Innovation America (DDIA). DDIA is owned by the same parent company as Doosan Bobcat, which is the larger Doosan company, and our primary function is to provide IT services and solutions to the various Doosan affiliates. This is the same company I accepted my internship with and have worked there for a little over 6 years now.
What led you to VCSU?
Growing up on a farm in small town North Dakota, I valued community and connection. Our farm was only 40 minutes from Valley City, so I already felt comfortable having been there many times before. My first visit on campus I remember meeting with various staff and advisors, and I could feel their encouragement as we sat down to look at what classes and extracurriculars were offered. The benefit of going to a smaller college, I knew I would get that one-on-one relationship with the faculty, and it really showed as time went on. I am grateful for choosing VCSU because I met some of the best people that made such a positive impact on my life.
What have you done since graduating and what are you up to now?
After graduating from VCSU, I went on to get my Master of Business Administration (MBA) from the University of Mary. I am still working at DDIA and enjoying the new and innovative projects I get to be a part of. I am traveling to Seoul, South Korea in the upcoming weeks and look forward to meeting the colleagues I have virtually worked with for some time.
What skills are important to have in your line of business?
The best skills to have are the ones that apply to multiple areas of your life. Be a good listener. Communicate early and often (there are no silly questions!). Remain open to other people's thoughts and ideas (there's more to the world than your own front door).
How did VCSU help you grow as a person and/or in your career?
Where to start… I don't think (actually – I know) I wouldn't be the person I am today without giving my hats off to VCSU. I think back to my years on campus and how close knit a lot of us were. We all came from different backgrounds and walks of life, and yet, we conquered the world together at VCSU. I think that goes to show what kind of community the college has.
What do you wish that you knew in college that you know now?
What you are doing now, in this moment, matters. Take pride in your day-to-day activities and work. Whether that be accomplishing a project that you may have been dreading for a long time or vacuuming a hallway at the student center. You never know who may be watching to recognize your hard work. A job well done has never not paid off.
Any advice for current students?
Get comfortable with being uncomfortable. What I mean by that is this: the very thing you are nervous about or scared to do, know that it is only by going through that situation is what will help you grow. Believe in yourself, and you will achieve great things.
---
Meet more students like Tasha Piehl-Thomas