Profiles
Garret Fettig
Mar 24, 2021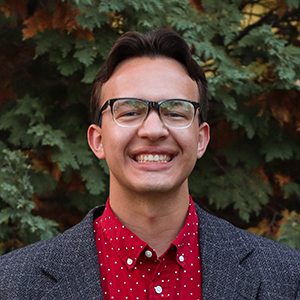 Year at VCSU
I'm a sophomore, graduating in spring of 2023
What led you to come to VCSU?
I chose VCSU because I knew I wanted to attend a small university where it's easier to make connections and know people. I toured VCSU and felt that small community, family-like aspect for myself. I was also offered a really good scholarship package that proved to me how much VCSU would value me as a student. I was sold.
Why did you choose Communication Arts as your major?
I originally came in as an English major, but by the second semester of my freshman year, I knew I wanted to add Communication as a double major. The Digital Media cognate interested me a lot because I knew I wanted to continue improving my writing skills, but also wanted to familiarize myself with the online side of things like web design, digital marketing, and social media.
What do you enjoy most about your major?
I really like what my Communication major does for my writing skills. Not a lot of people realize it who aren't involved with both of them, but academic writing is much different than Communication-style writing. There are a lot of changes to the words you use, the way you structure your sentences – even the tone of your writing has to shift.
How are your jobs helping you reach your goals?
All of the jobs I have are on-campus which helps me a lot because I don't have to worry about my work schedule interfering with my classes or clubs. They help me reach my academic and extracurricular goals by working with my on my time management so none of them ever interfere.
What do you like best about your jobs?
I like how involved my jobs have gotten me and how familiar I am with different aspects of campus! I work as a library assistant in Allen Memorial Library, which helps me get to know the librarians and makes me comfortable finding research materials. I work as a writing tutor for the Viking Learning Commons which makes me more connected to the Literature & Language department and makes me hone my own writing processes. I work as a Viking Ambassador for Enrollment Services which helps me learn more about campus as I give tours and answer questions for prospective students. I'm a resident assistant for Residence Life which enables me to help people living in the dorms and connects me to an entire community. Lastly, as of this semester, I'm a student writer for the office of Marketing & Communication which has me writing features about people related to the university and provides great work experience.
What activities or groups are you involved in on campus?
I'm in Viking Campus Activities Board (VCAB) as the social media manager, Student Senate as the public relations manager, English Club as the vice president, and an Learning to Live, Living to Learn (L2L) mentor for incoming freshmen. When it's offered, I like to be in concert choir and relive my choral glory days back in high school.
What do you enjoy most about VCSU?
My favorite thing about VCSU is how it can adapt to each and every student. I'm pretty "Type A" and like to be in control. VCSU is perfect for me because I feel like I can put together whatever course plan I want, involve myself with extracurriculars as much as I please, and get involved with a community that's always here to support me. At VCSU, you can make your education truly individual to you and I think that's important in preparing for today's job market.
What are some hobbies of yours?
In the few minutes where I'm not doing something at VCSU, I like to relax by binging tiny home or tiny apartment architecture videos on YouTube, or scrolling through professional development pins on Pinterest. I used to be a huge reader and even wrote sometimes, so one of my goals is bringing both of those hobbies back into my schedule because I definitely miss them.
Any advice for students thinking about attending VCSU?
Don't underestimate how influential a small campus can be on your college experience. Now that I've been here for two years, I can't imagine attending a school where I don't know my entire class, or can't recognize a faculty member, or wouldn't have people greeting me no matter where I'm walking on campus. Even more importantly, during North Dakota winters I can't imagine having to walk more than ten minutes to get to any location on campus!
---
Meet more students like Garret Fettig