Profiles
Dalvin Simmons
Nov 18, 2022
Dalvin Simmons came to VCSU after hearing about our nationally-acclaimed education program. He is balancing work on the field as a football coach and off the field in one of our Education master's programs.
Major:
Master of Art in Teaching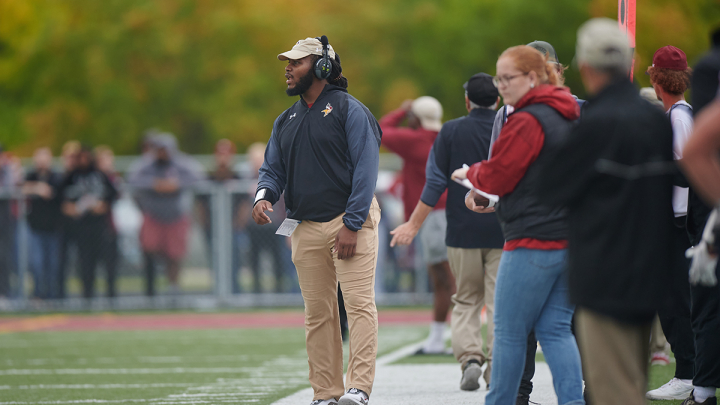 Hometown:
Little Rock, Arkansas
When will you graduate?
Spring of 2024
What are you studying and why?
I chose to pursue my MAT because of the influence my high school teachers and college professors had on my peers and me. The genuine connection they created with us was something I enjoyed and helped with the learning process.
What brought you to VCSU?
I chose to attend VCSU because of the history I've heard about the education program. I did my research and consulted with individuals and knew this would be a great university if I wanted to further my education as a teacher. It was a two-in-one because I was also offered a graduate assistant position with the football team.
What has been your favorite class and why?
I would say EDUC 675: Teaching with 21st-Century Tools. Technology is the future, and I enjoyed learning and experimenting with new tools to incorporate into teaching.
Do you have a vision for your career?
I plan to stay on the college level as a coach for a few years to continue to learn and grow as a coach. I eventually want to transition to a high school football coach and teach. I would love to coach at my high school in the future someday.
How is your time at VCSU preparing you for the future?
VCSU has prepared me for real-world situations. Moving from Arkansas to North Dakota has been an adjustment, but for the type of work I'm considering being adaptable is important. Especially if I plan to coach on the collegiate level for a few years. It's also shown me the importance of creating relationships with individuals and getting out of my comfort zone.
What is your favorite part of VCSU?
My favorite part is the togetherness, the small-town feel. I enjoy getting to meet everyone and building relationships.
---
Meet more students like Dalvin Simmons