Profiles
Shelby Kriewald
Mar 6, 2023
Preparing for a career as a special collections librarian or archivist is easy for Shelby Kriewald. The senior who is a double major in History and English works in the Allen Memorial Library on campus where she is lucky enough to nurture her goals by working with the archives.
Name: Shelby Kriewald
Graduation Date: Spring 2023
Hometown: Fargo, N.D.
Major: History and English Double Major
What are your career goals or where do you see yourself after graduation?
I am planning on getting my masters or MLIS with a concentration on special collections librarianship/archival studies. I'm currently in the process of applying for grad schools for next fall. I would love to be a special collections librarian/archivist at either a college, museum, or government library one day.
What attracted you to VCSU?
The scholarship opportunities were a big part, but also the smaller school environment. It made me feel assured that I could get one on one help if I needed it.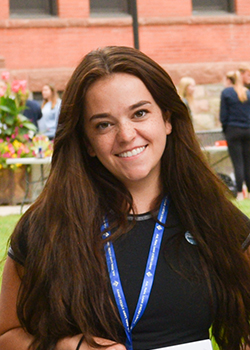 Why did you choose your specific major?
I originally chose history since I figured it would be beneficial to my career in taking care of historical artifacts and documents, as well as helping to bring context to the collections I may work with in the future. English was originally my minor, as it is something that comes naturally to me, and I also figured that having knowledge about literature could contribute to my job if I were to work in a library. I ended up almost finishing up with my History major before my third year of college so I decided to fill the remaining credits I needed with English courses as a way to bump my English minor to an English major.
Which activities or groups are you involved in on campus? 

I am the Vice President of the Phi Alpha Theta history club, and I work at the library on campus.
Have you had any internship or student work opportunities at VCSU?
I work at the library on campus, where I am lucky enough to be assigned projects that pertain to my career goals. For example, I'm working with microfilm and old newspapers from our archives right now, and some other projects I work on is book repair and putting together book displays. The full-time library staff are very accommodating and thoughtful in placing me with archives projects when they can, which has helped to enrich my resume for internships and grad schools I've applied to.
Any advice for students thinking about attending VCSU?
It's a place where I've felt very embraced by each of my programs and faculty. The professors seem to genuinely care about propelling your career and giving you the opportunity for success in your field. It's a supportive and intimate environment that I couldn't imagine would be replicable at a larger institution.
---
Meet more students like Shelby Kriewald