Profiles
Thriving Through Struggle: Reflections from 2022 Graduate Charismha Tsosie
May 13, 2022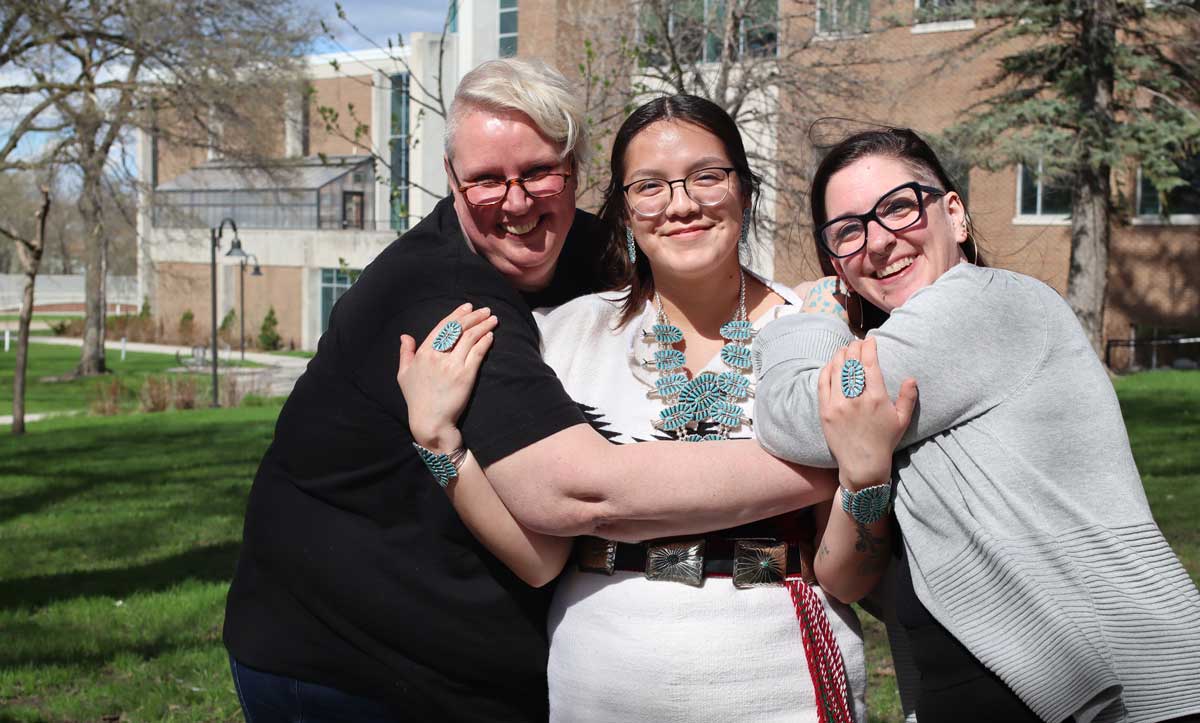 2022 VCSU Graduate Charisma Tsosie stands with Professor Hilde van Gijssel, left, and Professor Kelly LaFramboise, right.
As a first-generation college student, Charismha Tsosie knew surviving, let alone thriving, in college wouldn't be easy, but her achievements are a testament that achieving a dream can be worth the struggle.
From a young age, Tsosie was committed to pursuing work in healthcare. She knew that path required a postsecondary degree. Both attending college and earning a degree were things no one else in her family, a few people she knew, had done.
Her path to Valley City State University (VCSU) started after Tsosie, originally a member of the Navajo Nation, moved to Mandaree, North Dakota, on the Fort Berthold Reservation. She committed to VCSU to run cross country and track and field, but complications arose. Something as routine as applying for Financial Aid, just a step in the process for many incoming freshmen, was a complex and convoluted process for Tsosie.
"I had no path set for me," she said. "I had nobody I could go to who knew anything about higher education. Even now, when I talk to my parents, I have to start at the very beginning before they can actually understand what I'm asking, because they just have never experienced that before."
Tsosie became a bridge between VCSU and her parents. She shared her parents' confusion but did her best to understand what was needed. Then she worked to explain it to them so everyone could be on the same page. Tsosie deciphered emails, phone calls and voice mails for them.
She made it through the hoops and was ready to begin her studies in earnest. But within her first few months, Tsosie struggled to find her place. "I realized it was a big deal that I was in the minority here because I had more people looking at me, more eyes on me," she said. When she'd return home, six hours away, the pressure she felt didn't subside.
"I'm always representing something, somewhere—at home or at school," she explained.
After she retired from athletics, Tsosie stayed at VCSU for her major, finding her voice and passion.
"Health Science is an all-around program that meets the prerequisites for whatever professional program you're going into," she explained. "It applies towards what you want it to." It was perfect for Tsosie, who was unwavering in her interest in healthcare and her desire to help others.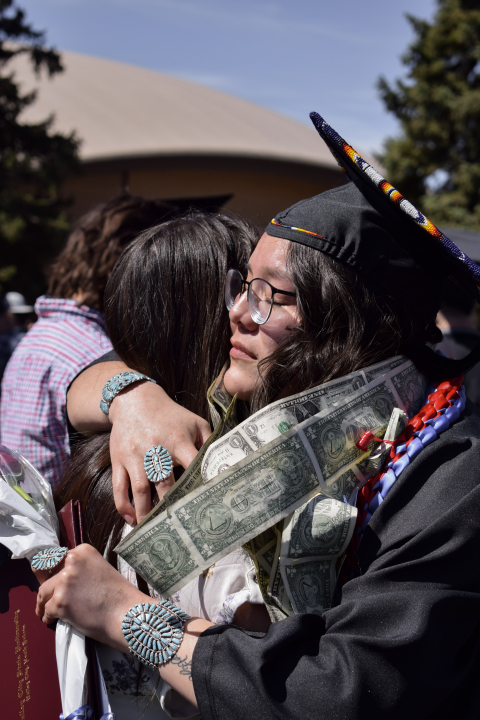 This program's versatility also makes it one of the most intense on campus. The Health Science major requires 54 credits, already a dozen more than most majors, and many of its credits are challenging upper-level science courses. This thorough curriculum best prepares students for whatever health-related field they're interested in, but it's formidable to complete.
Tsosie never flinched. "I wanted to do something that wasn't very common where I'm from. I had that ambition," she said.
Around her sophomore year, as Tsosie was hard at work settling in on campus and finishing her courses, she experienced family tragedy. Her younger brother, Elizondo Joe, passed away after an accident. Tsosie paused her schooling for a semester, to be with her family and mourn. Intense grief rattled her life. Education was the last thing on her mind.
But as she mourned, Tsosie's dream reemerged, and college became a way to honor her brother and make her family proud. Her brother's memory reinforced her determination with bittersweet memories and stronger resolve than ever.
"He was supposed to graduate with me, him from high school and me from college," she said. "We're supposed to have one more person here celebrating with us." Regardless, Tsosie knew he would be with her when she graduated, and she would feel his happiness as she walked across the stage.
That day came for Tsosie on Saturday, May 14, when she walked into W.E. Osmon Fieldhouse as a senior and walked out as an alumna of VCSU.
Having her entire family feel that same pride and happiness was important to Tsosie. She knew by going to a university, especially one so far from home, she rowed against the current. She wanted to show her family and community that she could forge her own path and inspire them to create theirs as well. By graduating, Tsosie hoped she'd proven that anything is possible, with enough spirit and resolve.
Tsosie has hopes for more than just her own future, dreaming of a future where all students can pursue their dreams. She encourages marginalized students to get involved on campus. "Socialize, socialize, socialize," she said. By applying herself in her courses, clubs, and jobs, Tsosie made connections with everyone from university administration to faculty to classmates.
One of those connections was Dr. Kelly LaFramboise, Director for Diversity and Inclusion at VCSU. During her senior year, LaFramboise offered Tsosie a student worker position managing the Center for Equity and Inclusion. The cozy ambiance of this space offered shelter to students facing end-of-the-semester stress, as well as plenty of snacks for refueling and more than enough spots to rest for a moment. In this space, Tsosie grew to appreciate her interactions with people from all sorts of backgrounds.
"After working with Dr. Kelly, I realized I have people here who have been in the same situations as me," Tsosie said. "I wouldn't have known that if I didn't talk to people and open up to them. I helped other people become more open, too—all thanks to Dr. Kelly and the Diversity and Inclusion Office."
LaFramboise described Tsosie's own effect on campus when she nominated Tsosie for the Viking Pilot Award. Viking Pilots are honored as leaders in the extracurricular arena of campus, majorly affecting the campus experience.
"Students have gravitated to her for friendship, mentorship and support because she is fun to be around and cares deeply for people looking for a safe space on campus," LaFramboise wrote. Tsosie was awarded Viking Pilot in late April.
Tsosie embodies success on many different levels. She is a leader on campus and completed a difficult academic program to earn her degree. Tsosie represented herself well and used her authenticity as a strength when interacting with faculty, staff, and friends. Her prominent example inspired others to be themselves with an equal and casual ferocity. Tsosie made the most of her time at VCSU and in college, not settling for just passing her courses, but applying herself to being a leader for all of campus.
As Tsosie neared the end of her college journey and approached her hard-won and well-deserved victory of graduation, she was uncertain. "I'm very nervous," Tsosie admitted. "I'm the first one who's going to do it, who's going to graduate. I don't necessarily know how to feel about it. New beginnings are exciting but also nerve-wracking."
Her uncertainty extended to plans after graduation. Tsosie knew that she would need to go back to school to pursue her dreams of work in the healthcare sector, but walking into graduate school immediately was intimidating. Once again, without the proper guidance or transition, she felt like she was going into it blindfolded and burnt out. Luckily, Tsosie's connections provided a unique opportunity.
Dr. Hilde van Gijssel served as a faculty mentor and showed support beyond the classroom when she recommended Tsosie apply for a summer undergraduate research opportunity at the University of North Dakota. Tsosie applied, was accepted, and even received an entire year's worth of funding for research into neuroscience and Alzheimer's. Tsosie interest in epidemiology started during her research methods course with van Gijssel. At UND, Tsosie will get a taste of what a future in healthcare will really look like.
"She'll deny it, but without Dr. Hilde, I wouldn't have this opportunity," she said. Tsosie was adamant the people at VCSU brought her to the final, most important lesson she'd learned during college
"Graduating wouldn't have been possible without them," she said, of her peers, teachers, staff and all those apart of her journey. "I hope others understand now that, with a little bit of help, anything is possible."
---
About Tsosie's regalia
At graduation, Tsosie wore a ceremonial Navajo gown.
"For special occasions, like ceremonies and celebrations, we have a certain kind of regalia that symbolizes the culture we came from and the traditions we still hold from previous generations," Tsosie says. The dress is hand-woven from wool and has different designs with specific meanings. Tsosie's grandmother, an experienced dressmaker, made the dress for her in only a few months. Tsosie also wore calf-length moccasins and was adorned with turquoise jewelry including a squash blossom necklace.
---
Meet more students like Thriving Through Struggle: Reflections from 2022 Graduate Charismha Tsosie