Bachelor of Science or Bachelor of Arts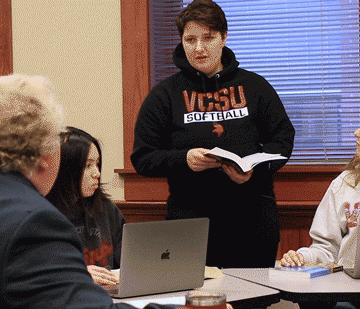 English
Your coveted skills in analyzing content, crafting eloquent work, and thinking critically are in high demand in today's job market. These skills are essential in every industry, and with a degree in English from VCSU, you will be positioned to choose the career of your dreams.
0
regional job listings last year
available jobs require no more than a bachelor's degree
$
0
median salary with an English degree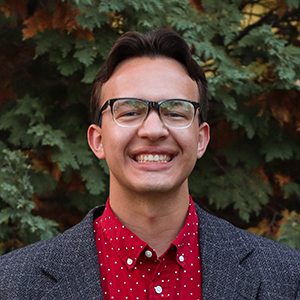 Garret Fettig
English and Communications double major with a Marketing minor

"VCSU is perfect for me because I feel like I can put together whatever course plan I want, involve myself with extracurriculars as much as I please, and get involved with a community that's always here to support me. At VCSU, you can make your education truly individual to you and I think that's important in preparing for today's job market."
Read more about Garret
Beyond graduation
Explore the possibilities
With such a broad skillset, and every industry requiring written work, an English degree provides students with a competitive, desirable edge in today's job market. Career opportunities with an English degree can include:
Author
Editor
Publisher
Reporter
Journalist
Technical Writer or Editor
Copywriter
Proofreader
Professor
Lawyer
Social Media curator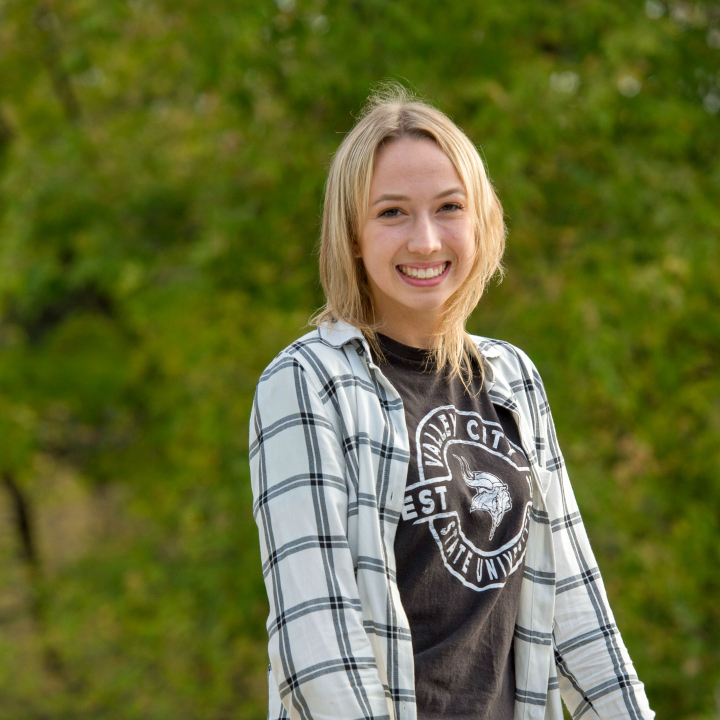 Clara Wieland
English and Communications double major 

"VCSU has allowed me to create an academic plan that is specifically tailored to me and my goals. With the help of my advisor, I found a future career path that excites me, and my education is truly preparing me to enter that field."
Read more about Clara
Get creating
English Club
Get involved
Submit to The Forge!
Join the ranks of other published authors by submitting your creative or academic writing to VCSU's curated literary journal.
Be part of English Club!
Books, movies, poems, song lyrics—anything that uses words, English Club's purpose is to discuss these creations. The club typically hosts a couple events per semester, ranging from do-it-yourself craft tables to book giveaways.
Learn more about clubs and orgs
Join clubs and organizations to get involved on campus and in your major.
We pride ourselves in offering countless opportunities for every student. Join one of our many clubs or organizations to get involved.
Find your club or organization here
Don't see one you like? Start your own club to share your passion.
Where you'll study
Our Language and Literature Department is housed on the third floor of McFarland Hall, central to campus and with carefully maintained historic trimmings, original to the university.
See a full campus map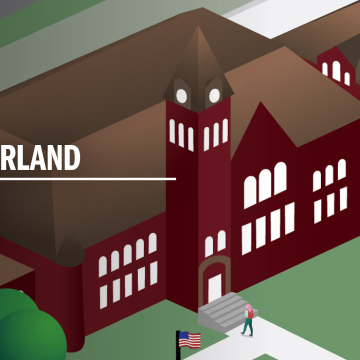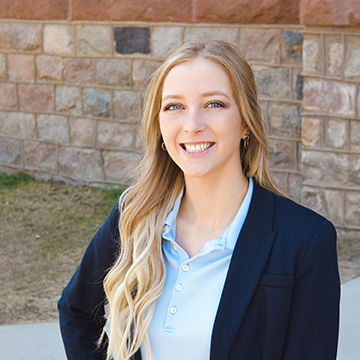 Hannah Anderson, '21
English and Communications double major with a Marketing minor

"I originally wanted to go into English Education but then found that I have more interest in a business setting than that of a classroom. I chose my program to cater to my writing and communications abilities, but in a different way than through teaching. I learned that I held a wide variety of interest and skills, and I wanted to push myself outside of my comfort zone, so I ventured into marketing and public relations and found a love for it!"
Read more about Hannah
Meet an advisor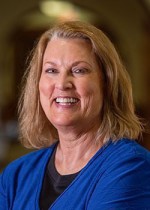 Jodi Shorma, M.A.
Assistant Professor
Department
Language and Literature
Office Location
Accreditation
A college education is an investment in yourself. Making sure your education is high-quality can be difficult, but not at VCSU. We are proud to be accredited by numerous institutions, and with that accreditation comes the assurance you're receiving the highest quality education that will prepare you for your career.