Profiles
Clara Wieland
May 26, 2022
Clara Wieland, English and communications major, has family ties to VCSU but it was more than just family tradition that convinced her this was the place she wanted to earn a degree.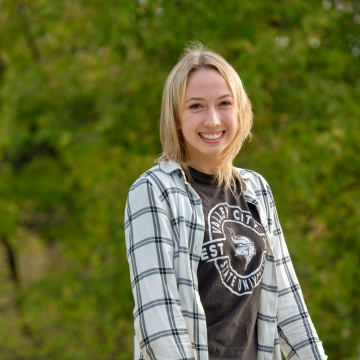 What year are you at VCSU, and when will you graduate?
I'm going into my senior year, I will graduate in the spring of 2023.
What attracted you to VCSU?
My family is full of Viking alumni. Both of my grandparents, my dad and his siblings, and my sister all attended VCSU, so I grew up hearing their stories and visiting campus with my sister. When I toured campus myself, I instantly felt comfortable and knew this was the place for me. I loved how intentional everyone was when getting to know me and helping me envision myself as a student here.
Why did you choose your specific major?
I came to VCSU super undecided about what I wanted to major in, and it wasn't until almost halfway through my sophomore year I finally decided. After exploring career options for Communication majors, I knew it would prepare me for a career I'd enjoy in the future.
What do you enjoy most about your major?
I enjoy how hands-on the professors are with my education. Each professor knows me personally and has no problem helping me with any question I may have. I really appreciate how each of them invests time into making my education best prepare me for a career after graduation.
How is VCSU helping you reach your goals?
VCSU has allowed me to create an academic plan that is specifically tailored to me and my goals. With the help of my advisor, I found a future career path that excites me, and my education is truly preparing me to enter that field.
What do you enjoy most about VCSU?
The relationships I've formed over the years. Every experience I've been involved in, whether it was playing volleyball, my classes, or my internship, I have created friendships that will last a lifetime.
What are some of your hobbies?
I love to spend time with my family and friends, travel whenever possible, read, and take photos.
Any advice for students thinking about attending VCSU?
Find people to surround yourself with who support you, challenge you, and help you grow. There are so many people on campus who are eager to help you succeed in reaching your goals, whatever they may be. I have grown immensely throughout my years at VCSU because of the people I've surrounded myself with and I feel prepared to accomplish my goals when I graduate.
---
Meet more students like Clara Wieland