President's Desk
Summer renovations and honoring excellence
Jun 9, 2022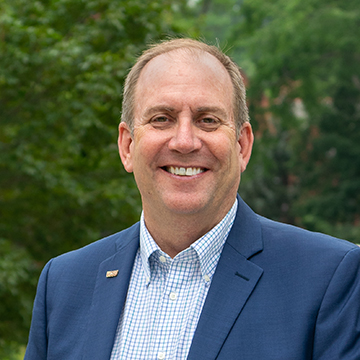 Greetings from Valley City State University!
For those that may think the campus slows down during the summer, it might surprise you that these months are among the busiest for many. Building maintenance, summer camps, alumni meetings, foundation events, golf tournaments, athletic team camps, and work on the campus grounds are just a few of the activities underway. Specifically, you will notice lots of activity on campus this week beginning with the demolition of Foss Music Hall.
This building has served the campus well as a center for learning, musical development, and performance. Due to the location of the facility on the wrong side of the flood wall, the music and art departments have relocated into the new Center for the Arts. The recent spring flooding event heightened the awareness of the devastating potential of flooding and we are thankful for having the new facility built in a way to avoid any future flooding issues.
While recognizing the history and impact of Foss Hall, we also recognize VCSU Athletics history. I'm very pleased to announce that on Friday, June 10, Valley City State University will be honored to induct 27 individuals into the inaugural class of the VCSU Coaches Hall of Fame.
The Coaches Hall of Fame is a new addition to VCSU and will honor Viking alumni who have gone on to successful and influential coaching careers. The inaugural class includes alumni from five different decades. Combined, the class coached nine different sports at the collegiate and high school level and won national championships and numerous national coach of the year awards.
Inductees into the VCSU Coaches Hall of Fame receive the Osmon Icon Award which honors individuals who have demonstrated a commitment to excellence in the field of coaching through their careers. The award is named in honor of Viking Icon Coach Bill Osmon. Coach Osmon's teams won 24 conference championships in four different sports making him the all-time winningest coach in Valley City State history while providing dedication and influential service during his tenure at Valley City State from 1947 – 1982.
Here are some interesting facts regarding the group:
4 of the inductees have also received VCSU Distinguished Alumni Awards
Numerous are inducted into various Halls of Fame including Respective State Coaches Hall of Fame (14); Collegiate Hall of Fame; National High School Coaches Hall of Fame (2); NJCAA Hall of Fame, NAIA Hall of Fame, Officials Hall of Fame, ND Sports Hall of Fame,
85 total Coach of the Year Awards
4 National Coach of the Year Awards
52 Collegiate Conference Championships
101 State Championships
1 NCAA National Championship
We are so pleased and honored to recognize these coaches and their legacies. We look forward to welcoming them and their family members back to Valley City and the campus.
Go Vikings!