President's Desk
Transitioning to a new normal
Mar 29, 2021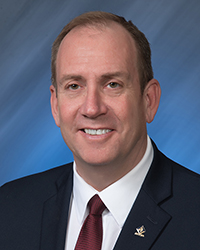 Greetings from Valley City State University! It was almost exactly one year ago – March 20, 2020 – that we made the decision to deliver academic instruction online for the remainder of the spring semester. This was the week following spring break and, while difficult, it was the correct decision to make for the health, safety and welfare of our students, faculty, staff and community.
As a laptop campus with a long and successful history of technology innovation and application, we were able to make this transition to distance learning relatively seamlessly. When we made this decision, little did we know the long-lasting impact of Covid-19 on our community, state, nation and world.
Fast forward to today, and the conversations are much different – uplifting, exciting and positive for the future. Realizing that protective protocols will remain in place, and specific details of the event are still being discussed, it is with great excitement that we announce we are planning for an in-person commencement ceremony on May 15, 2021. This will be our first return to a face-to-face ceremony since December 2019. All graduates recognized at our Virtual Commencement Ceremonies in May 2020 and December 2020 are invited back to participate in this face-to-face ceremony on May 15.
In addition to the in-person commencement, our foundation and auction committee are busy planning for the annual VCSU Scholarship Auction on May 21. This, too, will be a return to an in-person event, and we greatly look forward to celebrating the success of VCSU with our community and supporters. More details on both events will be forthcoming as we plan and prepare in the coming weeks.
The spring semester always seems to breeze by quickly, and the end of the semester will soon be upon us. We hope that you can find some time to enjoy the beautiful spring season we are having and look forward to welcoming you to our campus at any time!
Go Vikings!